Venerable federal judge Damon Jerome Keith, a grandson of slaves and champion of civil rights and civil liberties, died Sunday at the age of 96, according to a report in the Detroit News.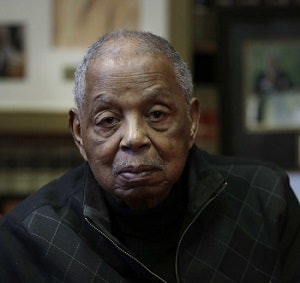 Keith's career as a jurist spanned 10 presidents and five decades. From his bench in Michigan, the Detroit native ruled on cases involving some of America's most controversial social and political issues, ranging from government surveillance of citizens to school desegregation.
He received death threats after his ruling in 1970 that led to the busing of Pontiac students to achieve racial desegregation and, as a result, 10 school buses being firebombed by the Ku Klux Klan. Later, he ordered the federal government, under President Richard Nixon, to cease wiretapping defendants without court approval in a case involving the White Panthers anti-war group and the bombing of a CIA building in Ann Arbor.
Keith received a bachelor's degree from West Virginia State College and served in the military in the Europe during World War II before enrolling at Howard University Law School, where he studied under future Supreme Court judge Thurgood Marshall.
Keith graduated with his law degree in 1949 and earned a master's of law degree from Wayne State University Law School in 1956. The law school opened the Damon J. Keith Center for Civil Rights in 2011.
In 1967, President Lyndon Johnson appointed him to the U.S. District Court for the Eastern District of Michigan. After serving as chief judge there, he was elevated by President Jimmy Carter in 1977 to the U.S. Circuit Court of Appeals for the Sixth District.
Keith went from active to senior status with the federal appeals court in the mid-1990s continuing to write opinions and hearing several cases a year. He wrote a strong dissent in a 6th Circuit ruling in 2016 that upheld some Ohio election laws that created stricter rules for voters, contending that the decision retreated from the Voting Rights Act of 1965.
Keith, who mentored top legal minds such as Harvard Law professor Lani Guinier, received more than 40 honorary degrees and awards from various academic, civic and civil rights groups nationwide. Among his accolades were the NAACP's prestigious Spingarn Medal and the Edward J. Devitt Distinguished Service to Justice Award, the highest for a member of the federal judiciary,
Keith's wife of 53 years, Dr. Rachel Boone, died in 2007. They are survived by three daughters and two granddaughters.