South Texas College of Law Houston recently raised nearly $500,000 million dollars at the law school's 2019 Gala, a black-tie affair attended by more than 400 faculty, staff, alumni, public officials and other supporters.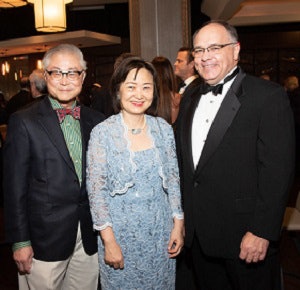 At the event in the Bayou Place ballroom, chairs Connie and Mike Hays and host committee chairs Elizabeth and Alexander Dwyer stressed the critical role of scholarships in the lives of the law school students. They encouraged attendees to participate in the evening's "Paddles Up" and live auction and to give from their hearts for current students, many of whom have families and hold jobs throughout their law school tenure.
Live auctioneer Andrew Bost announced a fundraising challenge by STCL Houston alumnus Richard H. Anderson. If attendees collectively raised $100,000, he would match the amount. They did.
Organizers also honored outgoing STCL Houston president and dean Don Guter and his wife Pat for serving for the past decade. He is the 15th longest-serving dean of the 209 law schools accredited by the American Bar Association.
In remarks to guests, Guter said attendance at the affair was the highest ever. He also noted that STCL Houston's annual tuition is 31 percent lower than the national law school average, its minority student population has grown to 45 percent and it was nationally recognized by The National Jurist as a "Best Value" law school in 2018.
The law school's new president and dean, Michael Barry, attended the gala with his wife, Lee, and will join the law school in August.
J. Ken Johnson, chairman of the school's board of directors, announced that the "bullpen" of the school's Randall O. Sorrels Legal Clinics will be named in honor of Don and Pat Guter, pending board approval.