Dr. Rita Patel, an associate professor of mathematics at College of DuPage, has received a major accolade from the Illinois section of the Mathematical Association of America – the 2019 Early Career Teaching Award for Extraordinarily Successful Teaching by a Beginning College or University Mathematics Faculty Member.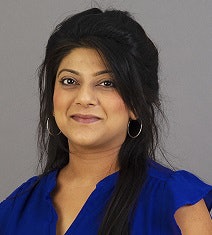 The award honors beginning college or university faculty whose teaching has been particularly successful and whose effectiveness in teaching undergraduate mathematics is shown to have influence beyond their classrooms.
"I was surprised to have been nominated and shocked when it was announced that I won," said Patel.
Beyond teaching, she participates in professional service presentations to practicing middle and high school mathematics teachers and works with community college and high school personnel to build a curriculum for high school students who intend to pursue non-STEM majors in college.
Patel, who earned a bachelor's degree in business, spent 14 years working in the financial industry, during which she returned to school to earn an MBA. While doing so, she discovered a deep enjoyment of math classes and a love of teaching, inspiring her to complete master's and doctor of philosophy degrees in math with a specialization in math education.
Patel said she enjoys teaching and has had a "wonderful experience" at College of DuPage, the largest public community college in Illinois.
"I am fortunate to have the support of the math department, STEM division and the school itself," she said. "I also love teaching. When you're in a class with students that are genuinely interested in the subject, it's unbelievable. The questions they ask, the interest they show. It makes my job even better."