The Florida A&M University (FAMU) chapter of 100 Black Men Inc. was selected Collegiate Chapter of the Year based on the strength of their voter education, economic empowerment, health awareness, mentoring and other initiatives.
During the organization's national convention in Las Vegas, the FAMU Collegiate 100 was recognized for more than a dozen activities. .
"This award is for those who are dedicated to working with middle and high school students in Leon County. They're making a difference and giving something back," said Damas, who credits his predecessor, spring 2019 graduate Roderick Wilkins, for his positive impact on the organization.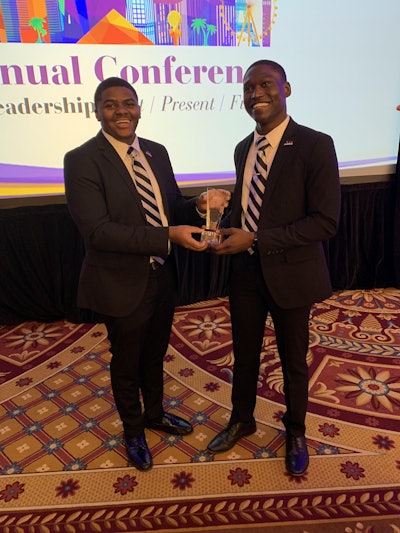 The Collegiate 100 Chapter of the Year Award highlights the best in class activities and projects of the Collegiate 100. 100 Black Men of America, Inc., recognized three Collegiate 100 chapters that demonstrated excellence in the execution and attainment of the programmatic goals of the organization in the areas of mentoring, education, health and wellness, and economic empowerment.  Organizations at Southern University of Louisiana and the University of North Carolina-Charlotte were also recognized as collegiate chapters of the year for their work.
"The work of the FAMU chapter furthers the mission of the 100 Black Men of America as members explore their highest potential, promote self-care, advocate positive self-image and encourage strong leadership, while giving back to their supportive communities," said Michael W. Victorian, 100 Black Men Inc. Collegiate 100 chairman.