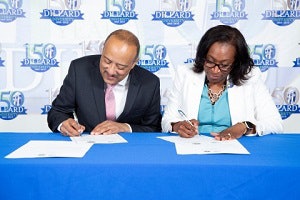 Ross University School of Medicine (RUSM) has entered into an agreement with Dillard University in Louisiana to help increase the number of African-American students who enter medical school at RUSM, and ultimately become physicians. Under the terms of the agreement, qualified Dillard students who earn full acceptance into RUSM will receive a scholarship covering full tuition for the first semester. These students will spend the first two years of medical school at the RUSM campus in Barbados.
"We are pleased to partner with Dillard University to provide a prescriptive path to address our nation's health care disparities and create a medical workforce that truly looks like America," said RUSM Dean and Chancellor, Dr. William F. Owen, Jr.
"Dillard University is excited to enter into this agreement with RUSM. This is another means of providing our students with access to medical school so their dreams of becoming doctors can be realized," said Dr. Yolanda Page, Dillard University's vice president of academic affairs.
RUSM recently announced similar agreements with Charles Drew University of Medicine and Science, Florida Agricultural and Mechanical University, and Tuskegee University. As part of its continued commitment to addressing diversity in medicine, RUSM's parent company, Adtalem Global Education, signed on to the Historically Black Colleges and Universities (HBCU) Partnership Challenge created by the Congressional Bipartisan HBCU Caucus, pledging to invest in creating strategic collaborations with HBCUs and working to increase diversity in key workforce sectors.