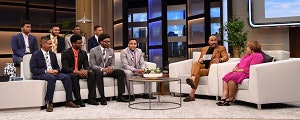 Comedian and former Kent State University student Steve Harvey is awarding eight of Kent State's incoming freshmen with scholarships that will cover the total cost of attendance for each student, according to a Kent State news release. Additionally, Harvey highlighted the students on a segment of his talk show, "Steve."
The Steve & Marjorie Harvey Foundation is collaborating with Kent State to provide scholarships that will cover the total cost of attendance. All of the students must maintain a 2.5 grade point average for the scholarships to renew each semester.
Additionally, the Harvey Foundation is also making a financial commitment to Kent State's Men Empowerment Network within the Student Multicultural Center. Harvey made that commitment to Michael Daniels, assistant director of the Student Multicultural Center and M.E.N. coordinator, during a special meeting on campus in April.
The April meeting coincided with Harvey's visit to Kent State for the 50th anniversary of the Psi Gamma Chapter of Omega Psi Phi Fraternity, where Harvey pledged while a student. The scholarships are in memory of Devin Moore, a Kent State student and member of the Psi Gamma Chapter who died in 2017 while playing basketball at Kent State's Student Recreation and Wellness Center.