A partnership between the Southern University Law Center and the Coushatta Tribe of Louisiana has led to the establishment of the Native American Law and Policy Institute (NALPI).
The Institute offers Federal Indian law courses, seminars and conferences including the Louisiana Rural Economic Development Summit and the Tribal Sovereignty Symposium, according to Southern University Law Center officials.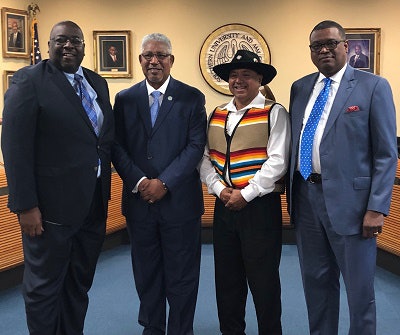 Southern University is the first historically Black college and university to have an Institute of this capacity.
"The Native American Law and Policy Institute was created as a catalyst to raise awareness about Native American tribes and provide an outlet where they can receive educational, advocacy, legal and policy assistance," said John Pierre, chancellor of the Southern University Law Center. "As the first HBCU with this type of institute, we have the opportunity to train our students in an important and developing field, which will increase our competitiveness."
As a result of the establishment of the Institute, partnerships with other tribes such as Choctaw Nation of Oklahoma, Chitimacha Tribe of Louisiana and Tunica-Biloxi Tribe of Louisiana formed.
Additionally, to raise more awareness about Native American heritage and culture, Louisiana Governor John Bel Edwards announced a proclamation to officially recognize Indigenous People's Day in October.