The College of New Rochelle, a small private Catholic college, will be auctioning off its main campus after the school filed for bankruptcy last week. Through 2020, the property will be leased to Mercy College, which will enroll 1,700 of The College of New Rochelle's students.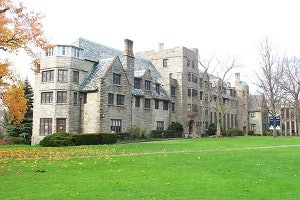 "We are particularly pleased that Mercy College students are utilizing the campus and are hopeful that the educational mission of the property can be continued long-term," Chairwoman of the Board of Trustees Marlene Tutera said in a statement.
The school is closing after 115 years because of long-term financial troubles. In fall 2016, President Judith Huntington resigned when an investigation found the school $31.2 million in debt. Debts and unpaid bills had been hidden from financial statements, reported lohud.
Controller Keith Borge was sentenced to three years in prison, along with a fine and restitution, after he plead guilty to failing to pay payroll taxes and committing securities fraud.
While there are efforts to give parts of the campus historical designation, the property is currently zoned for educational use or single-family residences. Bids for the property will be accepted in early November.