Maryland's Bowie State University has opened a new food pantry and nutrition lounge to feed students for free, reported WJLA.
At the historically Black institution, many students eat only one meal a day, said the university.
The initiative's aim is "ensuring that no student goes hungry and setting them up for success," said the university, which received a $10,000 donation from Food Lion's hunger relief initiative, to create the pantry and lounge.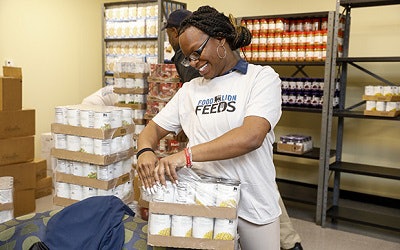 "The innovative space will provide fresh produce, a monitor to present nutrition education, tables and chairs, couches and microwaves, as well as shelves full of non-perishable items," said the university.
The food pantry includes a lounge with sofas and a television, and the university hopes all students use the space, said WJLA.