Syracuse University has suspended around 30 student-protesters after they announced an "occupation" of Crouse-Hinds Hall, where Chancellor Kent Syverud's office is located. According to The Post-Standard, they had brought pillows and blankets with the intention of staying throughout the week.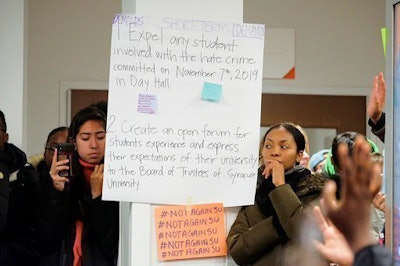 The protesters were part of the group #NotAgainSU, which formed late last year in response to the more than 20 hate crimes reported on Syracuse's campus in recent months. On Monday, the group updated a list of demands it had created in November by requesting that the school publicly identify perpetrators of hate crimes, disarm public safety officers, freeze tuition, acknowledge systemic issues on campus and make changes to the housing selection process for people with disabilities.
Calling the sit-in a violation under the school's "Disruption Policy," SU issued a letter warning student-protesters that they would be charged with violation of the student code of conduct and placed on interim suspensions if they did not leave by 9 p.m.
After 9 p.m., about 30 students received a follow-up letter, stating that they had been suspended.
According to the students' social media feeds, they remain in Crouse-Hinds Hall. Meanwhile, Syracuse University Department of Public Safety officers are stationed around the building and only employees are allowed to enter.