Syracuse University has revoked the suspensions placed on roughly 30 student protesters earlier this week, reported Syracuse.com.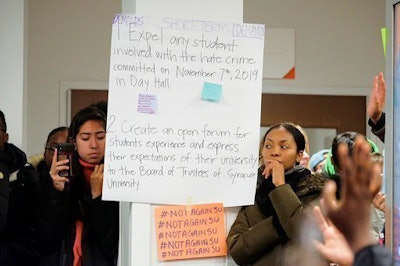 "Our university needs to step back from the edge so that we can continue the productive, ongoing work to address diversity, inclusion and safety that has been happening since November," chancellor Kent Syverud said in his first public statement regarding the latest string of #NotAgainSU protests, which have been occurring since November, in response to the more than 20 hate-inspired incidents on campus.
As of Wednesday evening, 23 students remained inside Crouse-Hinds Hall, a space they have "occupied" since Monday, refusing to leave, even as the university issued warnings of suspension and then subsequent suspensions, citing the protest as a violation of the school's "Disruption Policy."
Now, however, Syverud says the protesters should be treated with more compassion, vowing that he would not allow the arrest of protesting students. In addition, on Wednesday, officials allowed food and personal hygiene items to be dropped off by friends and supporters.
"They are our students," Syverud said. "Some of [them] are seniors. We should all want them to be able to go to class and to graduate. I want us all to remember that as our starting point."