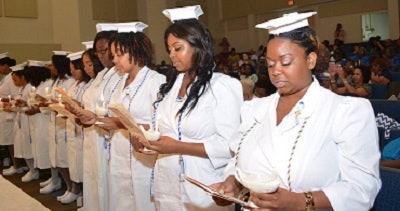 Community College of Baltimore County (CCBC) has received a three-year, $213,237 grant to fund scholarships for continuing education students who are pursuing a Certified Nursing Assistant or Geriatric Nursing Assistant Certificate.
Gifted by the Leonard and Helen R. Stulman Foundation, the grant supports the Stulman GNA Scholars Initiative to fulfill the growing demand for professionals in the healthcare industry. It will also help increase access to college for low-income students from both Baltimore City and Baltimore County.
In addition to funding scholarships for nursing assistant students, the grant will also support a part-time retention coordinator who will help students navigate classes and career opportunities.
"We are very thankful to the Stulman Foundation for this generous grant to benefit our nursing assistant students," said Steve Jurch, assistant dean of Health and Business Services at CCBC, in a statement. "This grant will enable CCBC to not only play a proactive role in meeting industry demand for healthcare workers, but to also help strengthen the quality of life for the students we serve."