A video emerged earlier this month of Sacramento State University professor, Tim Ford, and his wife, Crystal Ford, berating their neighbors in an argument that began over the smell of bacon grease, reports the New York Post.
Reportedly angry at the smell, the professor's wife called the woman recording the video, Mikaela Cobb, both a "b*tch" and the N-word before giving the couple the finger.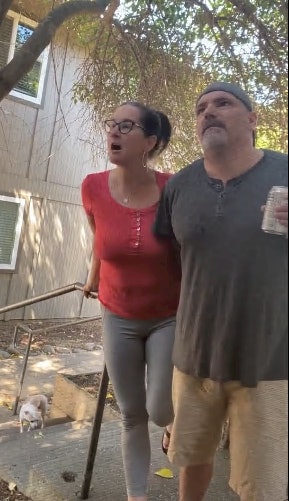 Tim Ford then boasted about his job and education saying, "I'm a professor at Sac State, dude. I have a Ph.D. I don't need to be dealing with sh*t like this." Toward the end of the video, which has since gone viral, he's seen throwing his drink at his neighbor's window.
Sacramento State University president Robert Nelsen said he was "deeply offended by the language" in the clip and added that the university is investigating the matter.
"Racial epithets are repulsive and unacceptable," Nelson said. "Personally, I am incredibly upset by the contents of the video and the harmful impact that it is having on our campus community," reported the student paper, The State Hornet.
In a post on Facebook, Cobb wrote, "This is what I have to deal with while in quarantine! Racial slurs are being thrown around, I can't even [be] at peace in my own home."
Cobb noted that the couple are her upstairs neighbors, whom she argues with often. According to Cobb, the apartment complex has sent several notices to Ford.
Shortly after Nelsen's condemnation, the professor said his wife "recognizes the hurt and anger that she has caused and regrets it. Today, she is seeking help and has checked herself into a hospital for alcohol and drug abuse," the Sacramento Bee reported.