Georgetown University announced Tuesday it is reducing tuition for undergraduates who are "not invited back to campus" this coming fall amid the COVID-19 pandemic.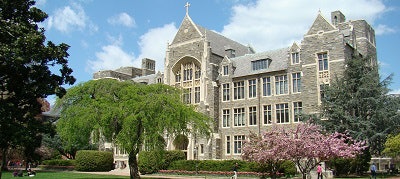 The university is also reducing housing and dining expenses for students who are allowed back on campus.
The reductions for some undergraduate students have been made based on the Washington D.C.-based university's plans for how it will run the fall semester. The college is limiting the number of undergraduates on campus to approximately 2,000. Those on campus will include members of the first-year class, that is, the class of 2024; students whose personal or family situation makes it imperative for them to be on campus; some seniors whose graduation requirements or academic programs require an on-campus presence; and some student resident assistants.
Accordingly, those who aren't allowed back on campus will get a 10% reduction in tuition, the university said, adding that if plans change to not allow any students on campus, all undergraduates will receive the tuition discount.
"The University takes this step in recognition that undergraduate students who return to campus will have access to certain services that will be unavailable to off-campus students," wrote provost Robert M. Groves and senior vice president and chief operating officer Geoffrey S. Chatas in a letter to students.
The university has not made any decision on tuition beyond the fall semester "due to the dynamic nature of the pandemic," Grove and Chatas said.
For students allowed back on campus, the university said it has taken several health and safety precautions. These include personal daily symptom screening; viral testing; enhanced cleaning of common spaces; extra food service precautions; reconfigured spaces to account for physical distancing; and housing all students in single-occupancy bedrooms.
However, "in recognition of the impacts of the health precautions on residence life," the university has decided to charge students a lower room rate. That means students in campus housing will pay the lower double-occupancy room rate instead of the higher single-occupancy rate.
The university has also changed its undergraduate academic calendar. Classes will begin on Aug.26; Labor Day and the mid-semester holiday will be eliminated; and the last hybrid mode undergraduate class on the main campus will be on Nov. 20. Students on campus will leave on Nov. 20 and stay home; that is, they won't return after Thanksgiving. The remaining classes through Dec. 8 will all be virtual.
Because the semester will be shorter, Georgetown University is reducing housing and dining costs by 20% for those students who reside on campus this fall.
"We recognize the significant investments students and families make to pursue a Georgetown education," wrote Groves and Chatas. "We continue to minimize tuition in­creases, and we maintain our deep commitment to attracting the most promising students regardless of their financial circumstances."