The board of trustees for Dixie State University voted unanimously to recommend removing "Dixie" from the school's name on Monday, The Salt Lake Tribune reported. The student executive council, faculty senate, university council, staff association board and president's cabinet supported the decision.
The suggestion comes after a consulting firm, Cicero, conducted a study on the potential impact of keeping the name, given its association with the Confederacy and slave ownership.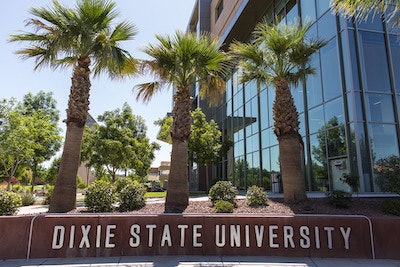 "Although we deeply believe moving toward an institutional name change is in the best interest of our campus community, we understand this change will be difficult for many, since the name has been cherished in our region since 1857, when 38 families settled southwest Utah to grow cotton," Dixie State University President Dr. Richard Williams told The Salt Lake Tribune.
According to Williams, the study found that the name could pose an obstacle to recruiting future students and negatively affect graduates' job prospects.
About 22% of recent alumni outside Utah reported a potential employer expressing concern about the university's name on their resume. Meanwhile, 41% felt uncomfortable wearing clothing with their alma mater's name on it.
To make the change, the university will now need approval from the Utah Board of Higher Education and the state legislature.