Texas A&M University's $4 billion "Lead by Example" campaign, which spanned nine years, has ended with $4.25 billion raised, according to Texas A&M officials.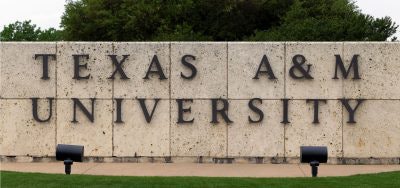 The campaign – launched publicly 2015 but started in 2012 – was a joint project between Texas A&M, the Texas A&M Foundation, The Association of Former Students, the 12th Man Foundation, the George & Barbara Bush Foundation and the Texas Aggie Corps of Cadets Association.
903,600 gifts were made to Texas A&M, leading to 3,364 new endowments. Alumni were responsible for more than 60% of gifts, with the other approximately 40% coming from non-alumni and public and private foundations. Current and former A&M faculty and staff gave $61 million. And students completed approximately 12 million reported volunteer hours.
The campaign "pushed forward an institution-wide evolution by strengthening high-impact research initiatives; funding significant updates to academic and athletic facilities; creating life-changing endowed scholarships and chairs for students and faculty; and bolstering traditions and programs that make Aggieland a world-renowned campus environment," said Texas A&M Interim President John Junkins.