A study has found that nearly four in 10 university students are addicted to their smartphones, which in turn negatively affects their sleep, The Guardian reported.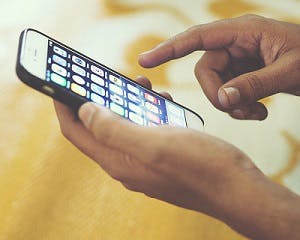 The study – published in the journal Frontiers in Psychiatry – looked at 1,043 students – ages 18-30 at King's College London – and discovered that 406 (38.9%) had symptoms of smartphone addiction. 68.7% of those categorized as smartphone addicts had trouble sleeping, while 57.1% of the non-addicts had such issues.
What determined whether someone was a smartphone addict was whether "they could not control how long they spent on their phone, felt distressed when they could not access their phone or neglected other, more meaningful parts of their life because they were busy on their device," The Guardian reported.
Factors that were shown to predict smartphone addiction included everyday total length of phone use and the time at which the person puts their phone aside for the last time before sleeping.
The study's youngest participants were the most likely to be addicted, the study found, with percentages decreasing for older age groups.
"The negative impact of smartphone use on sleep is very concerning from a mental health perspective," said Dr. Bernadka Dubicka, chair of the faculty of child and adolescent psychiatry at the Royal College of Psychiatrists. "Many young people have struggled with their sleep and mental health during this pandemic and poor quality or insufficient sleep can be both a symptom and a cause of mental health problems."