Northwestern University President Dr. Morton Schapiro has announced that he will step down on Aug. 31, 2022.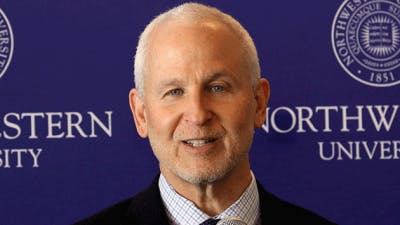 Schapiro came to the school for an initial five-year term in 2009 as Northwestern's 16th president, after serving nine years as president of Williams College.
But his contract has since been extended first by another five years, then by another three years.
During his tenure, undergraduate applications have almost doubled, with the acceptance rate dropping from 27% to 7%. Representation from underrepresented student groups also has doubled. And annual funding for sponsored research activity has increased from $476.9 million in 2009 to $887.3 million in 2020.
In 2015, he created a Good Neighbor Fund that originally gave $1 million annually for five years to the city of Evanston – later expanded to a $1.5 million effort for racial equity in both Chicago and Evanston.
Northwestern University has invested $2 billion for developing and renovating buildings on its campuses, such as the Kellogg Global Hub and the Louis A. Simpson and Kimberly K. Querrey Biomedical Research Center.
His time at Northwestern has not been without controversy. He's been at odds with students over abolishing university police last year.