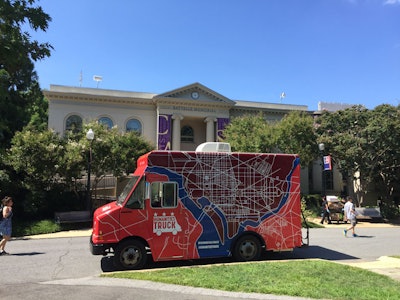 Beginning as a public history initiative, American University's (AU) Humanities Truck Project has since transitioned to addressing food insecurity in Washington D.C. neighborhoods during COVID-19, the university reported.
After receiving a $100,000 grant from the Henry Luce Foundation in December, the truck expanded its efforts by partnering with seven organizations including Kyanite Kitchen, DC Central Kitchen, a group of activists focused on homelessness, Trabajadores Unidos de Washington D.C., Food for All, Street Sense Media and HIPS.
Through these partnerships, the truck offers food vouchers or cash cards, delivers bags of food and works with groups to develop pre-made vegan meals, according to AU.
"With the grant, the Humanities Truck Program is breaking new ground in developing a new form of public humanities work that embraces the principles of mutual aid and seeks to address basic human needs in addition to the essential need we all have for understanding the world we live in," says Dr. Dan Kerr, associate professor of history and director of American University's Humanities Truck program.