Emory University is committing to reduce plastic use as President Gregory L. Fenves recently met with leaders of student-led initiative Plastic Free Emory Project and signed the "Break Free from Plastic Pledge," which entails a five-year plan for reducing unnecessary single-use plastics on Emory's Atlanta and Oxford campuses.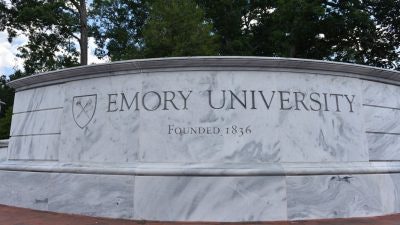 By 2026, Emory pledges to create a Plastic Free Task Force to engage stakeholders to enact the pledge, implement a year-by-year single-use plastics reduction strategy, continue using alternatives and implement purchasing guidelines to eliminate procurement of unnecessary single-use plastics. The university also plans to invest in education and infrastructure to reduce single-use plastics and increase efforts to eliminate plastic bags, plastic straws and styrofoam.
"This pledge shows that student-led activism has the power to enact real change," said Emory student CJ O'Brien, who co-founded Plastic Free Emory with fellow student Nithya Narayanaswamy. "College campuses are essentially 'living laboratories,' where students have the unique opportunity to create sustainability projects at a small scale, that can then be translated to implement change in the real world, on a larger scale. By passing this pledge we will be joining a global movement, and we hope it will inspire even more campuses, businesses and cities in Georgia and beyond to adopt a plan to phase out unnecessary single-use plastic."
Plastic Free Emory is recruiting for the task force. To apply, visit tinyurl.com/PlasticFreeTaskforce.