The first Black woman president of a top-ranked research university is stepping down after more than two decades on the job.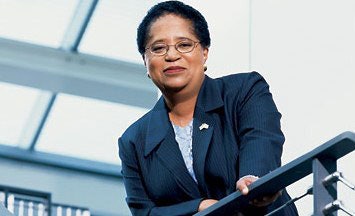 Dr. Shirley Ann Jackson, who has helmed Rensselaer Polytechnic Institute since 1999, will leave her historic post in the summer of 2022.
"It has been the privilege and honor of my professional career to serve as president of Rensselaer," Jackson said.
Under Jackson's leadership, Rensselaer, the nation's first technological research university, saw the installation of new facilities in sciences, arts and media, computer innovation, and athletics. Jackson launched multiple plans to increase investment in all aspects of university life; she hired 450 new faculty members and strengthened the school's endowment to over $1 billion. She invested in student life both on campus and off, allowing for off-campus travel for research.
"I want to express my deep personal admiration and gratitude, and that of the other Trustees, to her and for what she has done for RPI these past 22 years," said Arthur Golden, the chairman of the Rensselaer Board of Trustees.
Jackson graduated with a Ph.D. in Theoretical Elementary Particle Physics from MIT—the first Black woman to receive any doctorate from that institution. Before becoming president of Rensselaer, she served as chairman to the U.S. Nuclear Regulatory Commission. In 2009, she was selected to join President Obama's Council of Advisors in Science and Technology, and in 2014 she was appointed co-chair of the Presidential Intelligence Advisory Board.
In 2016, Jackson received the National Medal of Science.