New York's Mayor-elect Eric Adams has appointed David C. Banks as the next chancellor of New York City's public school system, the largest in the nation, reports The New York Times.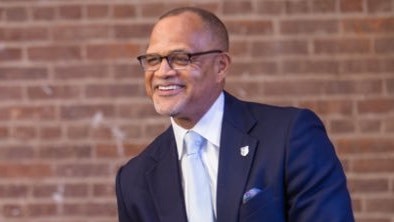 Banks is a native New Yorker, a longtime educator, a key adviser and close friend to Adams. However, he is most known for being the founder of the Eagle Academy for Young Men, a network of public, unionized all-boys schools that serve low-income Black and Latino boys in grades six through twelve. According to the Times, the Eagle Schools boast higher graduation rates than many of their neighboring schools and emphasize structure and community.
"I want to help transform the lives of so many of our children, but particularly Black and brown children who have struggled the most in this system," Banks told the Times. "They need people to be bold on their behalf."
Overseeing the school system's $38 billion budget, Adams will inherit multiple challenges as he steps into office. To name a few: the district remains among the most racially segregated in the country, roughly 100,000 public school students are homeless and some of the city's 200,000 students with disabilities aren't receiving all of their support services, notes the Times.
Adams says first priorities will be to expand early childhood education options, improve career pathways for older students and support student mental health.