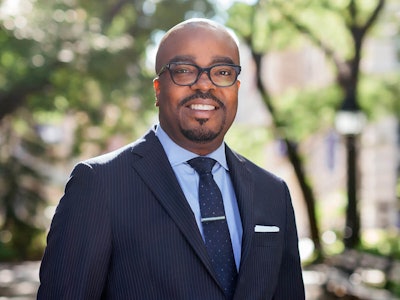 New York University (NYU) has named Dr. Michael A. Lindsey the new dean of the Silver School of Social Work. Lindsey is a widely recognized scholar of child and adolescent mental health. He will be the first Black dean of the School of Social Work.
Currently, Lindsey is the executive director of the NYU McSilver Institute for Poverty Policy and Research. He is also the Constance and Martin Silver Professor of Poverty Studies at the Silver School and an Aspen Health Innovators Fellow.
"He is committed to Silver and its aspirations; to research, practice, and teaching; to anti-racism and equity; and to making affordability and access priorities," said Dr. Andrew Hamilton, president of NYU, and Dr. Katherine Fleming, provost of NYU, in a joint announcement to the university community. "He has a successful record as a fundraiser, an ability to see the big picture, and a vision for the school. In so many, many ways, he exceeds the high bar of what we hope for in the next dean of the Silver School of Social Work."
Lindsey will begin his tenure as dean in July 2022. Outgoing dean Dr. Neil Guterman will return to the Silver faculty as the Paulette Goddard Professor.
"Social work has a pivotal role to play in these challenging times, as we create a new normal that is healthy, equitable, and socially just," said Lindsey in a press release. "More people than ever are vulnerable to poverty and poor health, and our profession has the tools to help both individuals and systems to address these challenges."
Lindsey pursued his undergraduate studies in sociology at Morehouse College and received a master's degree in social work for direct service practice, concentrating on mental health, at Howard University. He also received a master's degree in public health and a doctor of philosophy degree in social work at the University of Pittsburgh.