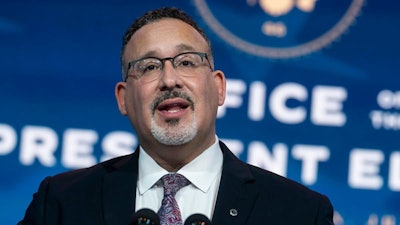 This week, the U.S. Department of Education (ED) released updates to the College Scorecard to make this interactive web tool more helpful for students and families considering colleges. The revisions will allow individuals to easily compare colleges across costs, graduation rates, and post-college earnings.
College Scorecard changes also include an annual refresh of the cumulative loan debt of student borrowers at the institution-level as well as by field of study within each institution. The tool additionally features federal student loan repayment rates at the institution.
"The updated and enhanced College Scorecard shines a spotlight on affordability, inclusivity, and outcomes, over exclusivity and colleges that leave students without good jobs and with mountains of debt," said U.S. Secretary of Education Dr. Miguel Cardona. "This update reflects the Biden-Harris administration's commitment to ensuring students remain at the heart of the Department's work."
The Scorecard also shows the percentage of graduates earning more than the typical worker with only a high school diploma. That metric can help people better understand whether an institution's graduates are better off for having gone to that college.
The Scorecard provides several examples of institutions that are inclusive yet often under-resourced. For instance, three in four undergraduates who enroll at Valencia College, a community college in Florida, are students of color. And according to Scorecard data, Valencia College has been narrowing its college completion rate gaps in recent years.
"For so many students and families, the college search process can be overwhelming," added Cardona. "But easily accessible, high-quality information about higher education institutions can help students determine which college or university is the best fit for them."