The University of Maryland, Baltimore County (UMBC) is officially a Research 1, or R1, university. It joins a list of 146 institutions classified as such in the nation.
Under the Carnegie Classification of Institutions of Higher Education, R1 is the highest level of research performance possible and is given to doctoral universities with "very high research" activity. That ranking is determined by various factors such as productivity in research and creative achievement, graduate education, and research expenditures across a variety of fields.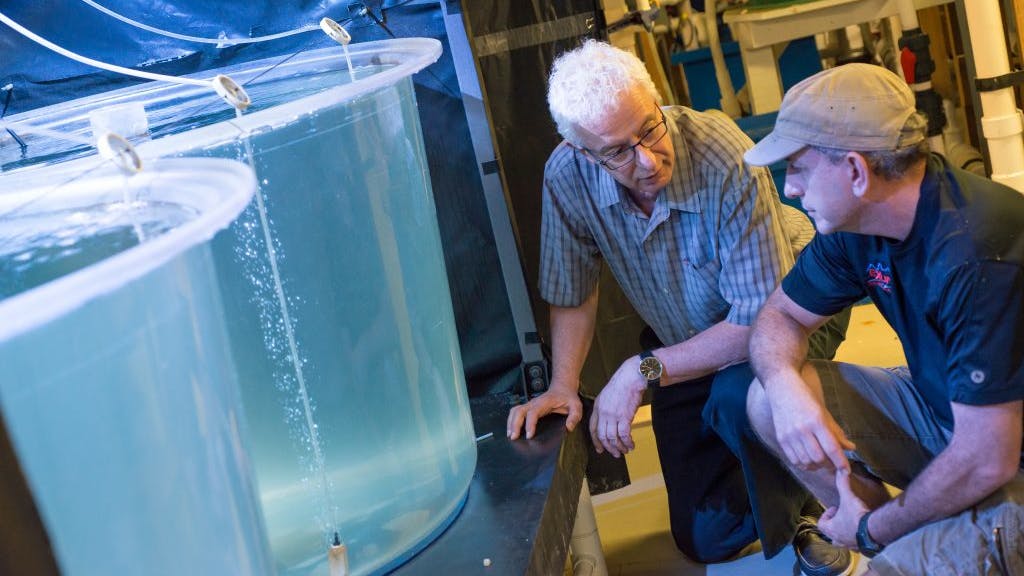 Yonathan Zohar, left, and Jorge Gomezjurado at IMET aquaculture research facility in 2016.UMBC PhotoUMBC says its research enterprise has been growing steady in the past few decades but has "ascended to new heights" in recent years. In 2021 alone, UMBC faculty secured more than $200 million in new research awards. Among those is a $10 million award from the U.S. Department of Agriculture to advance large-scale, sustainable land-based aquaculture; a $3 million gift from the Andrew W. Mellon Foundation to develop a pipeline to higher ed leadership for arts and humanities scholars; and a $68 million gift from DEVCOM Army Research Lab to strengthen the U.S. Army's artificial intelligence technology. 
"This historic moment for our campus is an outcome of long-term strategic priorities and investments in the research and creative achievement community at UMBC—people, facilities, and programs," says Dr. Karl Steiner, vice president for research. "It is essential to recognize that this reflects the work of our entire campus community, including engineering, natural sciences, social sciences, arts, and humanities. UMBC faculty from all fields successfully compete for research funding and national recognition at the highest level."