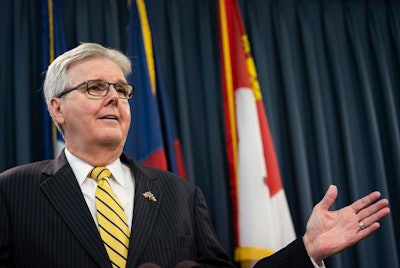 On Friday, Texas Lieutenant Governor Dan Patrick proposed banning teaching Critical Race Theory (CRT) in publicly funded state colleges and universities. Patrick also announced that he plans to introduce legislation to remove tenure for new hires as well as change the review period for those with tenure from every six years to annually.
"We're not going to allow a handful of professors who do not represent the entire group to teach and indoctrinate students with critical race theory, that we are inherently racist as a nation," said Patrick when announcing his plans. "We're not going to allow it to happen. We will change those rules."
The University of Texas Faculty Council had recently passed a resolution supporting the freedom to teach CRT, which prompted Patrick on Twitter to call for legislation to stop CRT from being taught at the university level.
Dr. Irene Mulvey, president of the American Association of University Professors (AAUP), released a statement sharply criticizing Patrick's threat to end tenure in Texas.
"Patrick put forth a straw man definition of critical race theory to demonstrate his support for a movement that seeks to maintain white supremacist ideology in an increasingly multi-racial democracy," said Mulvey in her statement. "To be clear, the premise of Patrick's argument–his description of CRT—is glaringly wrong. His solution—to abolish tenure—reveals his wider purpose: to silence critics and censor honest discussions about race and racism in classrooms."
The AAUP is a nonprofit membership association of faculty and other academic professionals that is focused on advancing academic freedom and shared governance in higher education.