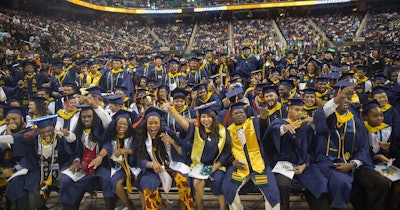 North Carolina Agricultural and Technical State University (NC A&T), the country's largest historically Black college and university (HBCU), is partnering with The Institute for Advanced Composites Manufacturing Innovation (IACMI) to launch a regional machine tools workforce training center with the Department of Defense (DoD).
This new hub is part of America's Cutting Edge (ACE), a joint DoD and Department of Energy (DOE) initiative to bolster American leadership in the machine tool industry.
"Industry demand for machine tool operators, engineers, designers, and entrepreneurs far outpaces our manufacturing workforce supply in the U.S.," said Dr. Aixi Zhou, NC A&T professor in the department of applied engineering technology as well as director of the new center. "At North Carolina A&T, we are leveraging this opportunity with America's Cutting Edge to better serve our students and community."
The center will be housed in NC A&T's College of Science and Technology. The university's partner, IACMI, is managed by the Collaborative Composite Solutions Corporation, a nonprofit established by the University of Tennessee Research Foundation.
"We have a critical workforce skills gap in this country when it comes to machine tool resources," said Joannie Harmon, IACMI's workforce director. "The training component of ACE is intended to help our nation recover, advance, and sustain technical and manufacturing positions — all to enable a strong, resilient, and responsive U.S. industrial base."
NC A&T will work with local industry and community college partners in North Carolina to implement a machine tool training model that was developed at the University of Tennessee.
"As the country's largest historically Black university and leading producer of African American engineers, North Carolina A&T is uniquely positioned to increase diversity in manufacturing, particularly machining," added Zhou.