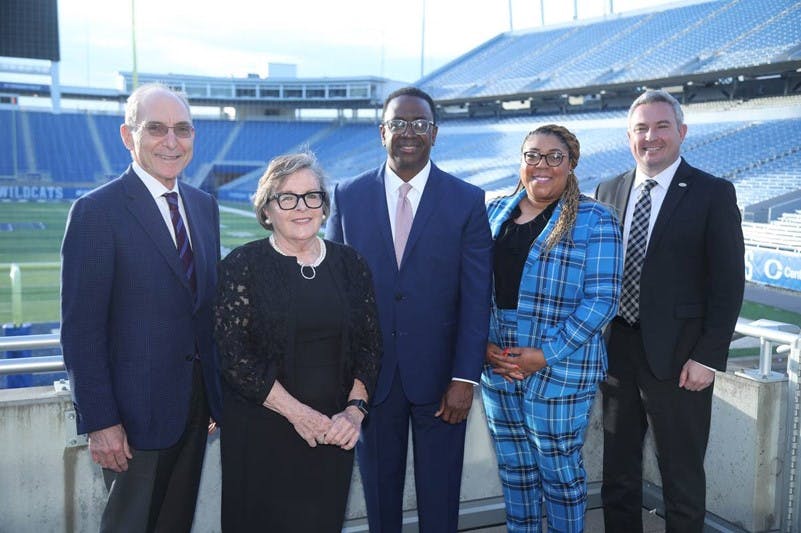 L-R: UK President Eli Capilouto, UK CAFE Dean Nancy Cox, Jim Coleman, UK Associate Dean of Diversity, Equity and Inclusion Mia Farrell and Kentucky Commissioner of Agriculture Ryan QuarlesMatt Barton, UK Agricultural Communications SpecialistThe University of Kentucky (UK) received a $1.5 million donation from James Coleman to support historically underrepresented students in agriculture, natural resources, and related sciences degree paths.
Coleman, a Kentucky native and descendent of enslaved people, runs Coleman Crest Farm near UK. To honor his late wife, Cathy, and the legacy of his family's farm, Coleman's gift will create the Cathy and James Coleman Scholarship Fund in UK's College of Agriculture, Food, and Environment (CAFE).
The fund will benefit students who are members of the Minorities in Agriculture, Natural Resources, and Related Sciences Program (MANRRS).
"I want to help UK's agriculture students to acquire the knowledge and practical skills to be successful leaders in agriculture," said Coleman. "I want them to be able to go into a bank and have an educated conversation with a lender about why they should be able to get a loan to buy a farm, raise livestock, and produce crops to support their families and produce generational wealth the same way my great grandparents did for more than 300 of their descendants during the last 134 years."
Coleman did not graduate from UK. He said that he admired the College of Agriculture, Food, and Environment's dean, Dr. Nancy Cox, when she visited Coleman Crest Farm in 2020.
"We are pleased that Jim is choosing to honor his late wife Cathy and the legacy of his family's farm in this way," said Cox, who is also UK's vice president for land-grant engagement. "He's inspiring our MANRRS students and showing them they can accomplish anything they set out to do."
When fully endowed, the scholarship fund will provide more than $75,000 annually and in perpetuity to support students.