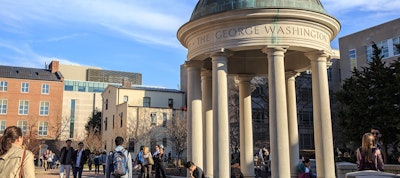 Adjunct faculty union members at the George Washington University (GW) are calling for pay increases in contract renewal negotiations to combat big wage disparities between professors.
Since 2011, GW adjuncts received only a 10% pay increase versus the roughly 19% pay bump that full professors got over the same time period.
"We're trying to get rid of these inequities," said Dr. Kip Lornell, head of GW's adjunct faculty union and adjunct professor of music, history, and culture, to GW's student newspaper. "We're trying to make it a fairer place to work, and the university basically just puts a thumb down and said, 'We want status quo.'"
Every few years, GW's adjunct union negotiates a collective bargaining agreement (CBA) with administrators to bolster pay and benefits for part-time faculty.
GW pays adjunct faculty with a terminal degree a minimum of $4,467 for a three- to four-credit class. According to the CBA from 2019 to 2021, regular part-time faculty at GW receive a $24,683 salary. Yet full-time professors at GW earn $186,000 on average while assistant professors make roughly $101,000, per a GW Core Indicators Report.
Adjunct faculty union members are calling the low pay exploitative, particularly given the education that GW requires to teach courses.
"The university continues to appreciate all the hard work its dedicated part-time faculty provide to GW, especially during a challenging pandemic, and is hopeful that resolution on a new agreement will be reached soon," said GW's spokesperson Tim Pierce over email in response to questions from GW's paper.