Samford University has received $100 million – the largest gift to the school by a single donor and the largest gift ever made to a higher ed institution in Alabama by a single donor – from the estate of alumnus Marvin Mann, who died Mar. 19.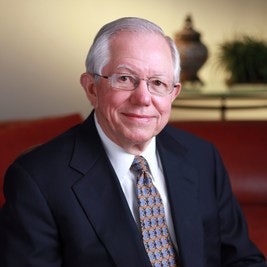 $95 million of the money – per Mann's wishes – will be for endowed student scholarships and $5 million will go to the Frances Marlin Mann Center for Ethics and Leadership, established by Mann in 2008 in honor of his late wife, Frances.
The donation is expected to provide approximately $3.75 million annually for students seeking to attend Samford.
Springdale, Alabama native Mann – a first-gen college graduate – graduated from Samford in 1954, worked for IBM for 32 years and then founded Lexmark International, Inc. in 1991 where he was CEO and chairman until 1999.
"My father occasionally told stories of hitchhiking to and from Samford during the 1950s, so he must have highly valued his experience there, especially considering the effort he had to go through to attend," said Mann's son, Jeff Mann. "It's obvious that my father revered Samford University and its community. For anyone to provide a gift that represents decades of hard work, leadership and successful investing he must have had full confidence in the leadership and future of the institution."
Mann was Samford's Alumnus of the Year in 2004 and received an honorary doctorate in commerce from the school in 1993.