Drexel University will be making its bachelor's degree programs more affordable by cutting the tuition cost in half for community college graduates from Pennsylvania and New Jersey, starting 2023, as part of its Drexel Promise program, Philly Voice reported.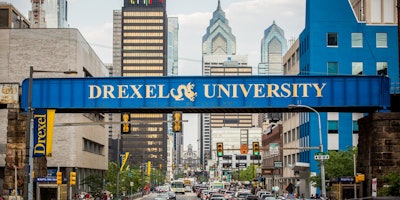 The program, announced Aug. 9, will be open to transfer students with associate degrees from accredited community colleges in the two states, the goal being to admit more students who are academically qualified but may need financial support to pursue an education.
The private school's tuition is currently $56,595 for the 2022-23 academic year, plus an estimated additional $2,405 in fees and $16,980 for room and board. The discount – not including state and federal financial aid — will reduce the tuition to about $28,297.
The program also will be open to those living in the aforementioned states who received associate degrees through eligible online colleges.
Those who receive the scholarship will need to maintain full-time enrollment and a minimum 2.0 GPA.
Drexel students with associate degrees will not be retroactively eligible. And students who qualify will not be able to get any other scholarships or aid from Drexel but can apply for state and federal financial aid.