Jamila Jefferson-Jones has been appointed law professor and associate dean for diversity, equity, inclusion, and belonging at the University of Kansas (KU) School of Law.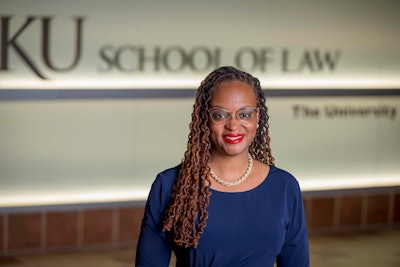 "The School of Law's efforts to build a welcoming and inclusive environment for our students over the past decade have been productive," said Stephen Mazza, dean of KU Law School. "We've led students and faculty in discussions about how to have conversations about race and justice within and outside the classroom, as well as conversations about developing a unique professional identity.
"But sometimes these efforts felt disjointed, and follow-up programming didn't always take place," she continued. "The law school's response to important incidents was also sometimes delayed. By elevating DEIB issues within an associate dean position, we hope to better coordinate our efforts and make more progress in this area."
Before starting at KU Law in July, Jefferson-Jones was professor and associate director for property, equity, and justice at Wayne State University Law School's Damon J. Keith Center for Civil Rights. She was also previously a professor at the University of Missouri-Kansas City (UMKC) Law School and interim director of the Black Studies Program in the UMKC College of Liberal Arts and Sciences.
Jefferson-Jones will teach courses in property law beginning in the spring semester. She holds a bachelor's degree in history and Afro-American studies from Harvard University and a J.D. from Harvard Law School.