The National Science Foundation has awarded Morgan State University a $1,248,895 grant for its School of Computer, Mathematical and Natural Sciences (SCMNS).
The funds will go toward the school's PERSIST Program, or "Pathways to Enhance Retention of Students in Science to Transition."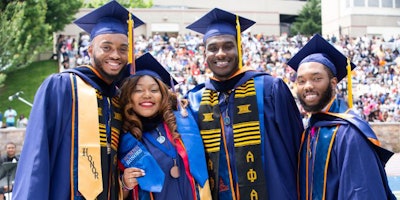 PERSIST aims to inspire first-year students to pursue STEM majors at Morgan State and continue on to graduation.
"The PERSIST program will greatly improve students' ability to think critically and persist towards completion of the freshman year and beyond to graduation," said Dr. Hongtao Yu, dean of the School of Computer Mathematical and Natural Sciences. "This program strongly supports Morgan State University's '50 by 25' campaign to increase our graduation rate to 50 percent by the year 2025."
The program plans to boost retention rates for STEM majors, increase the number of students involved in academic research, add new critical thinking components to science curricula and develop a six-week pre-college program for incoming freshmen.
Dr. Lisa D. Brown, associate professor and associate chairperson of biology and the SCMNS honors program coordinator, will lead the program.
"We foresee the PERSIST program serving as a model for enhancing student success and increasing persistence to degree completion," she said.