Attaining a higher education in the U.S. can be very challenging, especially for those who face socioeconomic and language barriers.
As a ­ first-generation Latina college graduate, Shirley Acevedo Buontempo noticed that many low-income Latino youth were not reaching their full potential because they lacked the resources necessary to understand the college process.
She wanted to close the college equity gap, so in 2012 she founded Latino U College Access (LUCA), a nonprofit organization aimed at increasing college enrollment and completion among ­first-generation Latino youth.
"I truly believe in the transformative power of an education and I believe in the incredible potential and contributions that Hispanic youth and community can bring, not only to our universities but to our community and our country," says Buontempo, LUCA's CEO.
LUCA originally hosted community information sessions in Spanish at local schools in New York. ‑ e sessions discussed ­financial aid, the college application process, scholarships and transition assistance.
"We wanted to provide culturally relevant bilingual support to Hispanic youth and families in our community," says Buontempo.
Now, the organization has a variety of programs available for students. LUCA partners with three school districts in New York with an Hispanic student population of 50 percent or more.
Close to 200 students are supported by the organization annually, according to LUCA.
One of their main programs, Latino U Scholars, helps more first-generation Latino students enroll and graduate college.
According to EAB, 90 percent of ­ low-income, first-generation students do not complete their degree. However, due to constant support, 99 percent of LUCA scholars remain in college and graduate.
"They need continued support and guidance once they enter university to help them feel that they can make it and that they belong," she says. "And that the challenges they are facing in college are not unique to them because they are ­ first-generation college students, but because they are challenges faced by every college student."
During their senior year of high school, low-income students selected as scholars are paired with a college coach. The coaches, who undergo extensive training, stay in contact with the scholars throughout their college experience to help them remain motivated and ­find post-graduation career opportunities.
"They are going through this process entirely on their own," Buontempo says of ­ first-generation Latino students in general. "Oftentimes, they do not have a single adult within their immediate family or within their extended family or even within their community that has gone to college. As a young high school student, trying to maneuver this process on your own can be overwhelming, confusing and complicated. We take all of that away."
Andrés Castillo Quintana, part of the Latino U Scholars 2014 cohort, was referred to the program by his guidance counselor in high school.
When applying for college, Quintana had difficulty understanding ­ financial aid forms and writing admissions essays.
However, under the Latino U Scholars program, he was guided through the financial aid application process, given feedback and advice on his essays and given a reduced-priced Scholastic Aptitude Test (SAT) tutor to help him prepare for the exam.
"They do a really great job of ensuring that everyone feels like they are participating in the process or feels like they are involved in what they are being educated about," he says. "I really liked that my parents were as involved in the process as I was, in part because of the bilingual programming."
Attending college was not without its challenges. While getting his degree at Princeton University, Quintana struggled with adjusting in the beginning, as he o­ften felt out of place and lacked that sense of belonging. He says it was difficult making the transition from going to public schools his entire life to "being thrown into this private institution, with people from all over the world who had access to a lot of resources to help them fit in," he says. "That kind of feeling, that imposter syndrome so to speak, was quite challenging. And you know, constantly playing catch-up."
Quintana found that the scholars program allowed students to bond and relate based on shared experiences.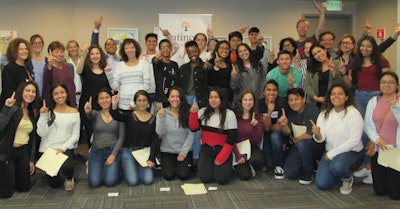 LUCA also hosts workshops and bootcamps using Spanish-language presentations and materials for students and their families. These include discussions about the SAT and the American College Test (ACT), essay-writing workshops, Free Application for Federal Student Aid (FAFSA) preparation and Common Application advice. ese programs have reached more than 4,500 individuals since LUCA was founded.
Buontempo has aimed to address the issues of under-matching and under-applying among Latino students. LUCA has been able to increase the number of Latino students attending a four-year university rather than a two-year college.
Under the Latino U Scholars program, 93 percent are enrolled in a four-year institution. Additionally, 60 percent are enrolled in a private four-year university, according to LUCA.
When the program first originated, there were only two participants. Now, in the 2019 cohort, there are 36 scholars, all whom received a total of 271 college acceptances and over $5.3 million in financial aid offers, LUCA reported.
"We see a significant impact on the work that we do, on the lives we serve," says Buontempo, "in that most of our students are going to college with incredible levels of financial aid and support. Because they are not just going to schools that meet their academic potential, we ensure that they are matched to universities that meet their financial need."
Jessica Timms, LUCA's development and communications manager, says comprehensive support sets LUCA apart from other college-access organizations.
"There are lots of college-access organizations, but we truly don't consider our job done with a scholar until we get that email saying, 'Hey, I landed my first full-time job,'" says Timms. "It's really a full-service organization for not just the scholars, but for their families."
Once Quintana graduated in 2018, he returned to LUCA as a volunteer and now has the opportunity to collaborate and express his own ideas for the organization. He is a member of the Junior Leadership Board, which raises funds and motivates more people to volunteer.
"It has been really meaningful to me," he says. "Going back, sharing my story, saying what my college education did for me and what Latino U is striving to do with more students. So it's been really cool to see how the organization has grown gradually over the years."
He refers to Buontempo as his second mother.
"She really does care about this organization, and she has thought about this for a very long time and really has put so much effort into it," says Quintana. "What sets her apart is that she really understands the experiences of every student that walks through that door. She is always able to connect with students and really make sure her team is able to give students the best possible opportunities."
In the future, Buontempo wants to focus on scalability and capacity-building within the organization. She hopes to continue to reach more school districts and serve more scholars.
"Universities recognize that [the] Hispanic student population is the future growth of student enrollment," she adds. "And identifying talented students that have the potential to go to college and succeed in college is a critical role for many universities. Which is also why we are building relationships and partnerships with institutions that have a high level of commitment and interest in recruiting and attracting Latino students."
Sarah Wood can be reached at swood@diverseeducation.com