The University of Michigan College of Literature, Science and the Arts (LSA) recently debuted a new campus building designed for students to access resources and support.
The $35 million LSA building spans 45,000 square feet and includes interview rooms, classrooms, a lounge and event space, a 24/7 market, and a prayer, meditation and wellness room. It's a place designed for students to connect with their peers and meet with potential employers.
"The idea was to create greater and more convenient access for our students to resources and support they need all in one place to make the most of their time here on campus and lead to successful outcomes after graduation," said Tamra Talmadge-Anderson, director of communications of LSA.
"It is very open and bright," said Talmadge-Anderson. "It is meant to be a welcoming home to students on campus."
Within the building, there are five programs including the LSA Transfer Center, LSA Opportunity Hub, LSA Scholarship Office, optiMize and LSA Student Government.
For a few years, the school has been making a push to recruit transfer students from community colleges and the LSA Transfer Center is meant to help these students with the transition.
"It is a sign for prospective transfer students that college does value them, because it's putting resources into a space that will help them make the transition when they get here," said Michael Hartman, assistant director for transfer initiatives and partnerships at LSA.
Last year, the university admitted as many as 1,031 transfer students; currently 3,055 such students are enrolled. The retention and graduation rate for transfer students has been over 90% over the last five years, said Hartman.
Hartman said that during their first semester, many transfer students focus just on academics and miss out on other opportunities available to them on campus. For example, they don't participate in events that provide information for study abroad programs or services that provide mental health support.
"Sometimes the transition for transfer students can be a little difficult their first semester," said Hartman. "So, we hope the center really offers them that space on campus to help with that transition."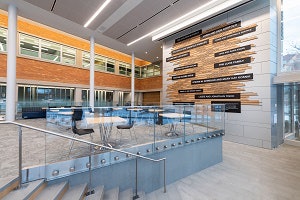 The center is open Monday through Friday and is always staffed by student ambassadors who are current transfer students trained to answer questions about the student experience.
The LSA Opportunity Hub offers students professional mentoring and coaching. Students can receive feedback on their resumes, cover letters and grad school applications, as well as rent technological devices such as laptops and calculators.
Through the Hub Internship Program, students also have the opportunity to be placed in on-site summer internships across the U.S. The internships run for a minimum of six weeks between May and August and students are eligible for up to $5,000 in funding.
The building also has a scholarship office, which is an additional source of funding for students. For example, scholarships can cover the cost of passport application fees as a way to decrease the number of study abroad barriers.
Additionally, optiMize, a student-led entrepreneurial organization housed in the LSA building, offers students mentorship, participatory workshops and competitions that can help fund their projects or business ideas.
The center has become a something of a resource for some non-transfer students too.
For instance, Hartman has noticed a few commuter students using its facilities. They heat up their meals in the center's kitchen and use the lounge as a place to study in between classes.
In addition, to support veteran students, campus military services will also do drop-ins into the center.
"It is one place where they can feel at home, feel and be supported, connect with one another in really meaningful ways," said Talmadge-Anderson. "And help them feel an even stronger identity to the college, to their fellow students, and be even more aware of the resources and support that are here for their success."
Sarah Wood can be reached at swood@diverseeducation.