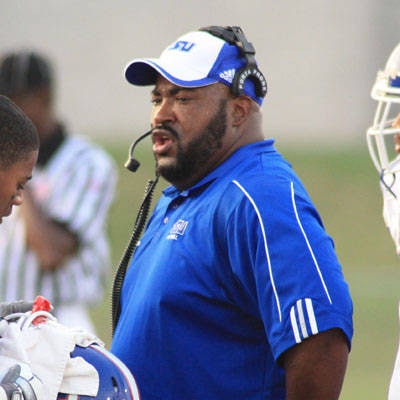 When it comes to securing the best talent, there is clearly a hierarchy in college football. It starts with the major Bowl Championship Series — automatic qualifier conferences, goes down through the rest of the Football Bowl Division (FBS) schools and drops from there.
That's nothing new — it's pretty much always been that way.
Decades ago, the exceptions to this rule were historically Black colleges and universities. With most colleges south of the Mason-Dixon Line refusing to add African-American players to their squads, Black colleges flourished as a result. Many schools, including Grambling, Jackson State and Tennessee State, have sent more than 100 players to the National Football League.
But those days, much like the Jim Crow days that yielded that talent, are long gone. With the top talent free to go wherever they choose, it's become increasingly difficult for HBCUs to pluck top talent from the high school ranks.
But just because blue chip recruits don't flock to HBCUs directly from high school doesn't mean they don't end up there. Every year, hundreds of players leave their original schools for almost as many reasons. Many of those same players that once never considered an HBCU school as high school recruits find themselves contacting those same coaches for a second chance.
The most prominent current former-FBS star-turned-HBCU stand-out is Alabama State's Isaiah Crowell. The running back was selected the Southeastern Conference's Rookie of the Year in 2011. A few months after winning that honor, Crowell was dismissed from UGA following a failed drug test and multiple criminal charges. He resurfaced at ASU in the fall, rushing for 15 touchdowns in 2012. He's been even better in 2013, rushing for over 100 yards per game two-thirds of the way through the season.
In addition to his spectacular on-field performance, Alabama State coach Reggie Barlow said he has matured a lot since coming to play for the Hornets.
"Going to Georgia and being 18 years old and being in the limelight is tough," Barlow told CBS Sports. "But he's doing a good job for us, been a really good teammate, and is working hard."
And while he's probably the most well-known HBCU transplant, he is far from the only success story. Over the past few years, several HBCU programs have come to prominence largely due to their success in taking players from bigger schools and integrating them on to their teams.
Tennessee State is perhaps the best example at the FCS level. In his short time there, head coach Rod Reed has shown a knack for plucking talent from the big-time ranks and turning them into productive players for the Nashville, Tenn., school.
AC Leonard was a highly recruited tight end that started his career at the University of Florida. The Jacksonville native had a productive freshman season but transferred shortly after being charged with misdemeanor battery. He had a breakout 2012 season, catching 51 passes and earning All-American honors. Leonard is one of three former Gators on the current Tennessee State roster.
Reed said that many of the players that transfer into his program are players that he made initial contact with as they were still in the high school ranks, so the familiarity is already there.
"We always recruit guys, even if they have SEC offers," he said.
Reed pointed out that there are many circumstances that can factor in to a players decision to transfer.
"There's always a reason," he said. "Either they've been in trouble, had academic problems or didn't get enough playing time."
Like Reed, Connell Maynor has found gold mining talented transfers to his Winston-Salem State program. Last season, Maynor's WSSU squad went 14-1, making it all the way to the Division II National Championship game, something no HBCU had done in nearly 30 years. More than a dozen players on that team, including starting quarterback Kameron Smith, came from Division I programs.
Maynor explained that when taking transfers, he has some standard guidelines, but still assesses every situation individually. He said he generally shies away from players who have certain backgrounds, but he will go as far as talking to former coaches to investigate whether the issues are a pattern or a one-time thing.
"Everyone makes mistakes," he said. "People deserve a second chance."
Once those players become a part of his team, however, he said he makes it clear to them that they won't get any special treatment.
"We tell them, we're doing this for you," he said. "Usually it's their last chance."
Still, Maynor admitted he never really knows what he's getting with a player until they get to camp. He said he relies on his veteran leaders to reinforce the team concept — Division I transfers and walk-ons all get treated the same.
"Our captains have been here for a few years, and they let guys know how we do things around here," he said. "Once they talk to the other players, they see that we are for real."