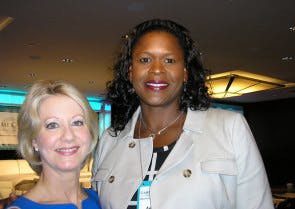 NEW YORK ―Whether it's fostering respect for diversity, discussing sports stories in the headlines or navigating the changing landscape of college sports, women play a vital role.
As the power of college football and the five conferences that dominate it play out, those involved in women's intercollegiate athletics work to sustain the progress made in women's sports in recent years. That was discussed at the conference "Game Changers: The Intersection of Women and Sports."
"We are at the risk of flipping the entire collegiate model on its head," said Anucha Browne, vice president of women's basketball championships at the NCAA, during the panel "The Intercollegiate Challenge: Examining the Growth Prospects of Women's Collegiate Sports." "This increased distance between the haves and the have-nots is very concerning.
"I'm concerned for collegiate sport as a whole," she continued. "We've got to get this right. We are at risk of kissing what was in place goodbye and that may have a damaging effect on many student-athletes to come. We want to make sure they continue to have an opportunity to thrive as student-athletes."
Big East commissioner Val Ackerman said what's unfolding now with the governance changes that are almost certain to come through in the NCAA is an attempt to balance the reality of enhanced revenues in college sport — from football and men's basketball — against the desires of many people and institutions to hold onto the collegiate model.
"It remains to be seen what impact these rule changes are going to have as more monies get directed back into those two sports and what it will mean for the non-revenue sports," said Ackerman. "How these new governance rules will, in fact, play out over the next year or two does remain to be seen.
"If anything's clear it's that college sports does have to adapt to modern times and it's more important than ever that Title IX be invoked to make sure that the opportunities that women have had to play sports remain because so much good has come out of that."
Chris Plonsky, women's athletic director and executive senior associate athletic director at the University of Texas, said we have to fight for balance and equity.
The panelists were asked how women in intercollegiate sports tackle topics that dominate the headlines, such as recent instances of domestic abuse involving NFL players.
"We put a lot of emphasis on the type of life-learning lessons with our student-athlete population, particularly when they're freshmen," said Plonsky.
There are extensive discussions during UT freshman orientation.
"How you manage anger and how you learn to be tolerant and embrace diversity," Plonsky said. "We're responsible, and as far as I'm concerned if we lose college athletics in this nexus with education … you'll get a different person — male and female — because the college setting is our bastion to change and make people better people to go out and be productive and good citizens."
Ackerman noted that the White House is about to launch a campaign addressing issues of violence against women on college campuses and has asked for participation from athletic conferences to help promote it.
Women's sports have always been a part of ESPN coverage. Basketball — both professional and collegiate — take up a significant amount of the air time, but ESPN has also showcased college volleyball, softball, fencing, and track and field, and plans are to increase coverage in the years ahead. ESPN also provides a voice on issues such as violence against women.
"When these things happen, we have a responsibility to report them and make fans aware," said Rosalyn Durant, vice president of college sports programming at ESPN. "What I've been proud of recently is the voice of women in those discussions on ESPN. We have these great women's voices thanks to ESPNW that aren't just heard on ESPNW, but using those ESPNW voices for SportsCenter.
"Having the female voices on staff can provide a female perspective," she added. "[It] adds depth to the conversation that is often missing, but [it] is needed."
Women in leadership positions in college sports don't only impact women's sports, but men's as well.
"Women speak up [about issues]," said Browne, who participates in the National Association of Collegiate Women Athletic Administrators, an organization that develops women who want to go into careers in sports or advance their careers. "The value of having a strong woman on staff is really important and the value of developing young women so they want to continue in careers in sports is huge."