RICHMOND, Va. — Leland Melvin, who knows a thing or two about travel, told a group of young student athletes Tuesday that "life is not about the destination, but about the journey."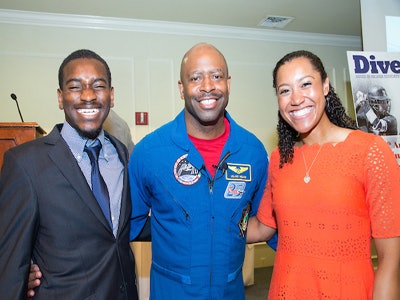 As the keynote speaker at the Arthur Ashe Jr. Sports Scholars awards luncheon at his alma mater, the University of Richmond, the former astronaut and Spiders football standout advised the high school and college students that "you only need one person to believe in you, to always have your back" to help fuel that journey.
Melvin, who shared the story of how he went from being an athlete good enough to be drafted by an NFL team to becoming an engineer to embarking on two missions as an astronaut, credited Ashe with being among those who inspired him along the way. Ashe, the late tennis legend and renowned social activist, trained a few blocks from house from where Melvin grew up in Lynchburg, Va., and Melvin said that motivated him to play tennis in his youth and emulate his character.
He urged the sports scholars to think about how their "journey connects back to those that give their lives" so that they could be where they are today and help those that come after them find their way.
Paul Sime and Nicole Evans were among those in attendance in Richmond — Ashe's hometown — that Melvin referred to as "the next generation of leaders. They were honored, respectively, by Diverse as the male and female sports scholars of the year for exemplifying the standards of scholarship, athleticism and humanitarianism which were the hallmarks of Ashe.
Sime, who plays soccer, came to the U.S. from Guadeloupe. He is a senior at the University of Kentucky who is majoring in political science and has a 4.0 grade point average.
Evans, who plays softball, is a senior majoring in kinesiology (3.8 GPA) at the University of Illinois. In acknowledging her recognition, she cited an Ashe quote that spoke to the day's theme of helping others along the journey.
"For what we get, we can make a living; what we give, however, makes a life."