The University of North Carolina-Chapel Hill and the NCAA on Friday delayed the publication of an infraction report, the result of an extensive investigation into academic fraud within athletic programs at the flagship university.
The university explained in a statement that the announcement of the decision from the NCAA Committee on Infractions was delayed due to a scheduling conflict at UNC.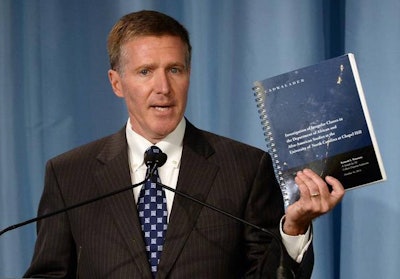 The news of the forthcoming announcement was first reported  by a local North Carolina newspaper, The News & Observer, on Thursday. The delay was announced only hours later. Although the postponement may heighten the anticipation for some, experts in the field of college athletics expect the content of the announcement, including any penalties or fines, to be symbolic and inconsequential. With the recent bribery scandals surrounding the NCAA, experts say that the UNC case is just another reminder of the deep-seated, systemic problems in collegiate sports.
For over two years, the NCAA has been investigating the fraudulent courses offered to student athletes to keep their GPAs above the minimum requirement. For 18 years, over 200 Africana Studies courses that rarely met and had nearly no assignments fluffed the transcripts of athletes.
"I believe they got a second-class education at best. That is reprehensible," said Dr. Gerald Gurney, an assistant professor of Educational Leadership and Policy Studies at the University of Oklahoma. "Academic integrity is at the heart of higher education. Without academic integrity, we have nothing."
Scholars like Gurney argue that the university has essentially failed to reconcile the dual roles of student athletes.
"The whole system is based on a lie," said Dr. John Gerdy, a visiting professor of Sports Administration at College Sport Research Institute, or CSRI, at the University of South Carolina. "And that lie is that these are real students, students first and athletes second."
According to Gerdy, who has written several books on university athletics, institutions like UNC with profitable sports programs, exploit their students, profiting from their physical labor without providing the education they deserve. Gerdy said that in theory universities and student athletes are bound by a contract, but institutions are failing to keep their end of the bargain.
"We say it's about student athletes and education," he said. "But everyone knows the score. It's about playing ball and making money on the backs of these kids."
According to experts like Gerdy, a fundamental shift is required in the way that universities view their student athletes.
"I think that people are coming to an understanding that they're employees and we have to look at this as an employer-employee relationship," said Dr. Richard Southall, the director of CSRI. He explained that athletes are typically less prepared than their classmates for college-level coursework. Moreover, NCAA bylaws requiring athletes to be full-time students create hotbeds for academic fraud.
"College athletes are underprepared to go to college in the first place, and then we force them to take a full-time load," Southall said. "Well it makes perfect sense that they're gonna do what they did at North Carolina."
Southall expects that the NCAA investigation and the attention it has placed on UNC will end this specific type of academic fraud.
But he joined Gerdy in expressing skepticism towards the upcoming infraction report's ability to motivate reform.
"It'll get some headlines, but it'll pass," Gerdy said.
Gerdy adds that the racial component of this controversy is likely not to be discussed at all. With a large majority of football and basketball players at UNC being Black, race plays a crucial role in the larger debates surrounding university athletics. He emphasized the discrimination against the "high percentage of black kids who are putting their bodies on the line, who aren't getting a square deal."
"These African-American primarily males are generating all the revenue that flows back to upper-middle class and middle class white athletes in country club sports," said Southall.
Richard Johnson, an attorney and advocate for college athlete who serves on the executive board of the CSRI, noted that CSRI's research showed that graduation rates for black student athletes are far more impacted than their white counterparts.
"To me that's outright racism," he said. "There's a lot of discussion about implicit racism people don't want to acknowledge."
Dr. Robert A. Bennett III, a scholar on the experiences of Black male student-athletes with the Todd A. Bell National Resource Center on the African American Male at The Ohio State University, wrote in an email that there "needs to be a complete overhaul of college athletics and the ways rules are enforced." That said, he is hopeful that the attention on UNC will lead to greater reform, as more universities begin to consider how academics and athletics can co-exist.
"When you get exposed in the manner they have, you really have no choice," Bennett said. "This report is going to bring a great deal to the forefront."
Johnson, however, disagrees, arguing that the NCAA and its infraction report will barely budge the moneyed interests in college athletics.
"UNC is not gonna really be hurt at all by whatever they do," he said. "It'll have a negligible impact."
Joseph Hong can be reached at jhong@diverseeducation.com