Northwestern University football coach Pat Fitzgerald has been fired Jul. 10 due to a hazing scandal, The Chicago Tribune reported.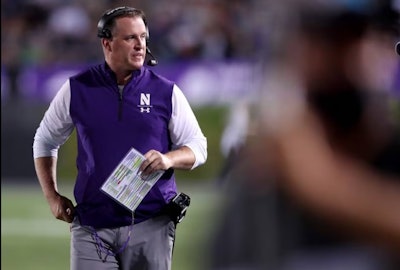 Fitzgerald "was being relieved of his duties effective immediately" due to his "failure to know and prevent significant hazing" in the school's football program, Northwestern President Michael Schill said in a public statement.
A recent outside investigation confirmed a former football player's account of hazing by teammates, and its report said coaching staff had "significant opportunities to discover and report the hazing conduct." This led to Fitzgerald being suspended for two weeks without pay last Friday, a punishment that was then changed to termination after student paper The Daily Northwestern published the player's account of sexualized hazing.
Fitzgerald was surprised Schill unilaterally revoked the suspension agreement without prior notification, and attorney Dan Webb and agent Bryan Harlan will "take the necessary steps to protect [Fitzgerald's] rights in accordance with the law," he said in a statement Monday night.
The investigation showed no evidence that Fitzgerald was aware of hazing in the football program, but the hazing was well-known by many, Schill said.
"The head coach is ultimately responsible for the culture of his team," Schill said. "The hazing we investigated was widespread and clearly not a secret within the program, providing Coach Fitzgerald with the opportunity to learn what was happening."