A former Northwestern University volleyball player is suing the school, alleging university officials failed to properly address a 2021 hazing incident and seeking at least $50,000 in damages and a jury trial, NPR reported.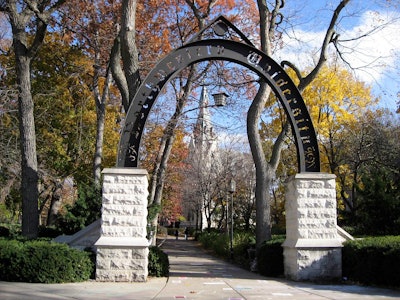 The player – "Jane Doe 1" in the lawsuit – claimed she faced hazing, harassment, bullying, and retaliation while on Northwestern's volleyball team. She is the school's first female athlete to come forward amid the hazing scandal currently surrounding the school's football program.
According to the suit, Doe was injured in March 2021 while running suicides — a conditioning exercise with sprints across the court — as punishment for allegedly breaking the team's COVID-19 guidelines.
The school investigated after the injury, during which it suspended the team's coach and coaching staff, Northwestern officials said in a statement. After the investigation and through December 2022, Doe did not play in any games; was singled out by the coaches; and was made by the coaches to write an apology letter to trainers without a justifiable reason, according to the suit.
Defendants named in the suit include Northwestern; President Michael Schill; former president Dr. Morton Schapiro; the school's board of trustees; vice president for athletics and recreation Derrick Gragg; former university vice president for athletics and recreation James Phillips; and head volleyball coach Shane Davis.
"Here, we have a university where many brave young men and women are standing up for themselves, and we hope it's a sign of things to come, where student-athletes are not abused in the pursuit of wins for the school but treated like the human beings they are," said Patrick Salvi II, one of the former athlete's attorneys.
The legal battles and scandals surrounding Northwestern athletics are growing, with Salvi and fellow lawyer Parker Stinar filing three lawsuits over alleged hazing in the football program and a former Northwestern student-athlete filing another suit about the football program Jul. 24.
This comes after former head football coach Pat Fitzgerald was terminated for hazing allegations in the football program. Northwestern also recently fired head baseball coach Jim Foster after reports of a toxic culture in the school's baseball program.