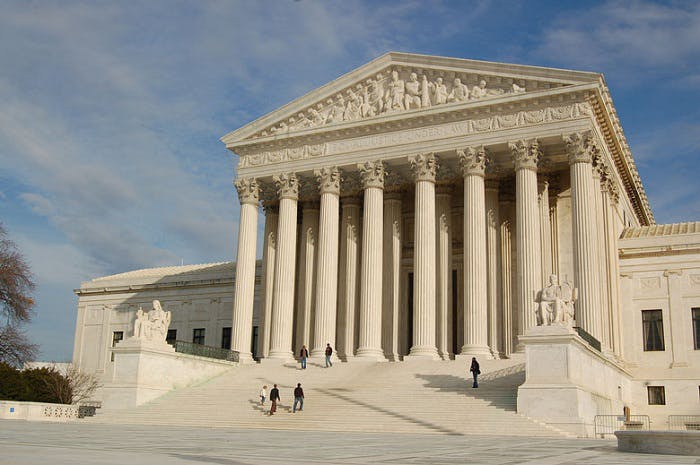 With oral arguments set for Wednesday in the U.S. Supreme Court case that could restrict or end the use of race in college admissions, supporters of race-conscious affirmative action have been ramping up their own oral arguments in the court of public opinion.
Their message—that race-conscious affirmative action is still necessary to achieve diversity on campus—is one they plan to amplify right up to the day of the hearing itself. Their efforts are expected to culminate with a rally Wednesday on the steps of the U.S. Supreme Court at the same time attorneys in Fisher v. University of Texas are scheduled to make their oral arguments.
The plaintiff in the case is Abigail Fisher, a White student who claims she was unfairly denied entry to the University of Texas at Austin because of her race.
Fisher—who did not qualify for entry under a Texas college admissions policy that automatically admits students in the top 10 percent of their high school class into the state's public universities—was rejected as part of a separate pool of applicants admitted through a system in which race can be considered along with a series of other factors.
Proponents of race-conscious affirmative action say that, if Fisher prevails, it could undermine diversity on campuses throughout the United States.
"The stakes are very high," said Paul Wolfson, partner at WilmerHale, which has filed a brief in support of the University of Texas at Austin's undergraduate admissions policy. "It's very important to the universities and all the people that depend on them to maintain the ability to structure an incoming class and a student body that is as vibrant, as excellent and as diverse as possible."
Wolfson made his remarks during a recent phone conference organized by The Leadership Conference on Civil and Human Rights, a Washington, D.C.-based organization that also filed a brief in support of the University of Texas.
The Leadership Conference plans to make its case at the rally.
Wade Henderson, President and CEO of The Leadership Conference, said the purpose of the rally is "to stand up for fairness in college admissions; to stand up for expanding opportunity to all Americans; and to stand up for a judicial precedent that is balanced, fair, and in the best interests of our nation."
Similar remarks were made during the recent phone conference, during which a series of speakers essentially called for the preservation of Grutter v. Bollinger, the University of Michigan Law School case that allows colleges and universities to narrowly consider race in college admissions in order to advance diversity as a compelling state interest.
"As the U.S. Supreme Court has recognized, we should leave pathways to opportunity visibly open to everyone in our country," said Debo P. Adegbile, Acting President and Director-Counsel of the NAACP Legal Defense and Educational Fund. "Colleges will be less diverse if race can't be considered on applications."
To bolster his point, Adegbile argued that the number of African-American students at UCLA and Berkeley declined significantly after colleges in California stopped considering race.
"For many students, college is the first time they have meaningful opportunities to interact with people from vastly different backgrounds," Adegbile said.
Michelle Lee, a junior at University of California San Diego, said colleges and universities should be allowed to look at more than just academics when forming their student bodies.
"I don't think that just grades and test scores are the best way to decide who should be admitted to a college or university because there is so much more that makes a person than just that," said Lee, a second-generation Chinese American, during the conference call. "Colleges and universities should consider a whole person and everything they bring, including the different experiences they have because of their race."
The Leadership Conference is being joined in its efforts by a diverse group of organizations, from ones that have become household names—such as the AFSCME and the NAACP—to other groups, such as the Asian American Justice Center, Church Women United, and the National Pan Hellenic Council.
Another group—led by the National Association of Diversity Officers in Higher Education (NADOHE)—is adding its voice to the chorus of those calling for preservation of race-conscious affirmative action in order to achieve diversity on campus.
NADOHE also frames the Fisher case as a matter of academic freedom.
"Educational autonomy is grounded in the First Amendment and it includes the freedom of a university to make its own judgments as to the selection of its student body," NADOHE said in a statement. "The Grutter decision confirmed this. The University of Texas should be accorded such deference in this case."
Wednesday's rally is just one of a series of events that various organizations have staged in an attempt to shape perception of the case. One recent conference by the Brookings Institution sought to show that race-conscious affirmative action actually hurts the minority students it was intended to help by subjecting them to academic "mismatch," in which they are admitted to schools where the academic environment proves discouragingly tough. A different conference by The Century Foundation sought to prime campuses and universities for a "better affirmative action" that takes socioeconomic status into account instead of race.