At a time when community colleges are more important than ever in providing access to higher education, Dr. Bob Simpson of Cypress College feels great satisfaction in facilitating the process and strengthening the available content.
"Community colleges are the people's colleges," says Simpson, who is retired earlier this month as president of Cypress, a community college in Southern California, which boasts a current enrollment of approximately 15,728.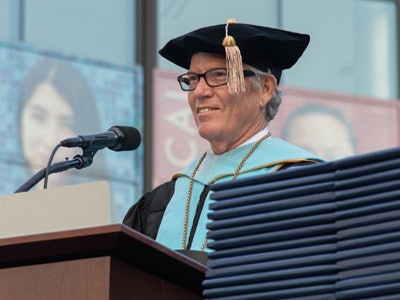 "California community colleges have held the line with no increases in tuition over the last five years," he says. "At the same time, students who complete their first two years at the community college are even more successful than those who begin their studies at the four-year schools. We remain the best academic bargain in town."
As a proud product of California's public education system, Simpson has been involved with community college education for 30 years. Since arriving at Cypress in 2007 — where he spent five years as executive vice president before becoming president — he has focused on issues of access, equity, student support and community outreach.
"I approached my role as president first and foremost as an advocate for students," he says. "We are fortunate to have incredibly strong academic and career/technical education options, and by utilizing community expertise related to our programs, we are able to take into account and address the rapidly changing needs of a dynamic economic environment. Having the opportunity to facilitate this process has been one of the most gratifying aspects of my presidency."
Even though he was slammed with a budget crisis during the first year and a half of his presidency, Simpson completes his time as president having developed innovative initiatives at Cypress, including a veterans' resource center and a new building for science, engineering and mathematics, both of which are currently in the design phase.
"The greatest challenges I continue to face are in bringing about needed change to systems, processes and procedures, which hinder the ability of our students to succeed," says Simpson. "It has been said that one cannot continue doing the same thing and expect different results, yet in higher education we are so resistant to considerations of profoundly needed change. Too often, we respond to the need for change with ad hoc arguments that serve only to sustain an unacceptable status quo."
With the end-goal being successful college completion, Simpson is an advocate for improving educational outcomes by finding new approaches for students who come to college unprepared for the academic rigors.
During his presidency, Cypress implemented a successful bridge program between the college and its non-credit school of continuing education for students who place in the lowest levels of math. The non-credit option has provided students a means of developing greater math competency in a student-friendly environment, instead of slogging through a series of remedial courses.
Another innovation is the "Summer Boost" program, which allows students who place into lower level English or math courses to enroll in a two-week boost class. This is particularly valuable for returning students and adult learners. After the refresher, students may re-test, and many place significantly better. By placing higher, students reduce the number of classes they need to take, another example of Simpson's goal of reducing student costs.
"Over the last 10 years, the college has reduced expenditures on energy and waste by over $1 million per year," Simpson points out. "These savings translate into revenue for the college that can go directly toward student support."
Simpson says the community college mission of economic development is vital to both the state and national economies. Programs at Cypress that lead to employability include nursing, dental hygiene and assisting, radiology and automotive technology. Input from community advisors keeps the programs fresh, current and viable.
In 2015, Cypress was selected as one of 15 California community colleges to participate in the baccalaureate pilot program, an initiative that enables two-year institutions to offer four-year degrees in high-demand areas in the local workforce. The first upper division courses in mortuary science, which will count toward a bachelor of science in funeral services, is slated to begin this fall.
The college received several accolades during Simpson's presidency. These include top Toyota Technical Education Network campus in the nation; top-two ESL and English program in California; number 17 on the MTV-U Rate My Professor national faculty rankings; and top-three ranked California community college. Last year, Simpson was named Administrator of the Year by the California Association of Postsecondary Educators of the Disabled.
Under Simpson's presidency, Cypress expanded the role of the college diversity committee, which Simpson says gives him great satisfaction and provides a framework to advance the institutional value of inclusiveness and diversity. He has pushed for a more diverse workforce at the college.
"In an ever more rapidly changing environment related to community demographics, as well as a smaller and smaller world in which ideas are exchanged in a real-time manner, it is increasingly important that the value of diversity in our workforce becomes uppermost in the minds of those who make these determinations as we select our future employees, particularly so when we are selecting new classroom teachers," Simpson explains.
"I believe our most significant successes related to issues of diversity have come about because of the leadership we have demonstrated in embracing inclusiveness, by celebrating our differences, and by including considerations of the value of diversity as necessary for the ongoing health and well-being of the institution," he adds. "Change can be difficult, but failure to change when necessary can be fatal."
Simpson describes himself as a firm believer in out-of-the-office leadership. As president, he's made himself visible to Cypress students and shown engagement in student and employee-related activities. He is a frequent presence at college athletic events as well as the performing arts and celebratory events. He interacts with faculty and staff and tries to show he genuinely cares for them, noting that every job on campus impacts the students' experiences and therefore is relevant.
"There is no more important role we have as educational leaders than to embrace, advance and celebrate the diversity of our student bodies," Simpson says. "These fine young men and women who come to our doors — regardless of age, race, ethnicity, religion, gender, condition of disability or economic status — represent our future.
To do less than our best to support them would be a disservice of the highest order.
"Having had the opportunity to spend a life in education providing opportunities for others to improve their lives has been such a blessing. I am so grateful."
This story also appears in the June 29, 2017 print edition of Diverse.