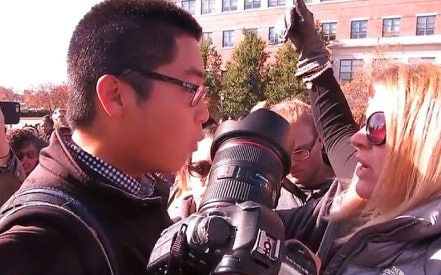 Hey, hey. Ho, ho. Reporters have got to go.
That's what student protesters at the University of Missouri chanted last November as they surrounded student photographer Tim Tai, who was on assignment for ESPN to capture images from the protests that had led to the ouster of the president of the university system, Timothy M. Wolfe, and the chancellor of the flagship campus in Columbia, R. Bowen Loftin, over their response to racial issues on campus.
"Just back up," one of the protesters told Tai. "You lost this fight.  You lost this battle. Back up."
Actually, Tai won.
At least in the eyes of the National Press Club, which recently honored Tai, one of two photographers, with its annual John Aubuchon Press Freedom Award. The other photographer is Mahmoud Abu Zeid, alias Shawkan, an Egyptian photographer who has been jailed since 2013.
"These two photographers, in widely different circumstances and parts of the world, both remind us of the courage and perseverance that undergird excellent reporting and that keep us fighting for press freedom," National Press Club President Thomas Burr said.
Tai's experience was captured in a video that went viral last fall. The video shows Tai as he was surrounded by a crowd that sought to block him from taking pictures of protesters who had set up a tent city in a public space on campus.
"Tai handled the throng with calm grace, and he articulated the importance of bearing witness to the protest," a National Press Club statement says. "Then he proceeded to do his job."
In order to shine more light the episode, Diverse conducted a Q&A with Tai, who has since graduated and is currently working a summer internship at The Boston Globe.
What was going through your mind when you found yourself essentially under attack while trying to cover the protests at the University of Missouri?
I wouldn't say that I was under attack; I think that overdramatizes the nature of the incident, and there are photojournalists who literally are attacked in the course of doing their jobs. I never feared for my physical safety ― perhaps the worst that could have happened was that I trip and break a camera. That being said, the main thing going through my mind was the need to make impactful pictures that documented the story of a significant event in the university's history. Above all, my job was to document what was happening in as thoroughly and impactfully as possible, and I was always looking for pictures speaking to the magnitude of the university system president's resignation and the associated events and figures, including student activists and the football team.
I watched the video of the incident last fall just for reference purposes, and I couldn't help but wonder if you feel you were singled out because of your race.
You're not the first to ask and I've certainly thought about it. I don't think I can really speculate about whether my own race played a role in the incident. I don't think it played a conscious role but it's hard to guess whether it played a subconscious one. That said, I have never personally felt that I was being singled out or treated differently because of my race.
If you were to teach a class about photojournalism and you had to lecture about this particular incident, what would be the top two or three takeaways or lessons that you would have for students?
Some of the biggest takeaways are: Know your rights and be confident in your knowledge of them. I wish civics education in the U.S. was much better than it currently is, but journalists especially need to know their rights. And some of these rights are extended or complicated by various state and municipal laws. For example, Missouri has a law that explicitly affirms outdoor spaces on public university campuses as traditional public forums.
Have a sense of purpose and be able to communicate it. If people ask you why you're there or why you're taking photos, you have to be able to respond appropriately to them. That doesn't mean you have to convince them.
Photojournalists cover a wide variety of uncomfortable situations, and our job is by nature intrusive. We have to balance the public's right to know and being considerate of our subjects. That requires good news judgment as well as understanding ― and truly believing ― in your mission as a photojournalist.
If you are being confronted, don't react with physical or verbal retaliation. Everyone has a camera these days on their phone, and photojournalists can be recorded by other people as well. Strive to always be professional, because even if the law is on your side, you can still come out looking like an idiot if you let your emotions take control.
Photojournalists are confronted by angry people at all sorts of events ― riots, protests, fires, crashes, shootings, etc. ― and we have to know when to push the issue and when to just move on and find another picture.
So how'd you get into photography in the first place?
I ask myself that sometimes because it was kind of by chance. I got a camera just after graduating high school and wasn't very good at using it, of course, and I'd never taken a class about it. But I'm a perfectionist and wanted to keep getting better at it. I never planned to study photojournalism but I would practice taking photos of my friends, and then I'd bring my camera to events, and started taking photojournalism classes and working for the school newspaper. And I just kind of committed to it once I got deep enough into the classes.
What are you up to now? I noticed your website says you are available for assignments "anywhere in the world."
I'm a summer photo intern at The Boston Globe right now. I'm yet not sure what I'll be doing after August. In terms of freelance assignments, sure, I'd love to travel anywhere that a publication or client wants to send me.
What's on the horizon and what would you consider your dream assignment?
I'm hoping to start off by working at a newspaper. I think newspapers are great because you're living and working in your own community, and so you're really invested in your community and you also get to explore it on a daily basis. And you get to cover a little bit of everything. In terms of a dream assignment, I'm not really sure. I think if it's a good story, and there's a lot of visual potential and I can get good access to the subjects, I'm happy to work on it.
Jamaal Abdul-Alim can be reached at dcwriter360@yahoo.com or you can follow him on Twitter @dcwriter360.