A video went viral on American University's campus. It showed more than six campus police officers carrying a Black female student, junior Gianna Wheeler, out of her room in off-campus university housing by her arms and legs.
"This is my dorm room," she yelled. "Get off me."
According to a statement by Black Lives Matter DC, the American University Police Department was supposed to be performing a wellness check when the video was taken on Sept. 27. The group protested Wheeler's treatment the day of her disciplinary hearing, alongside The Future is Feminist and student activists.
Wheeler had been accused of assaulting another student resulting in a month-long suspension, but she was later found not guilty at her hearing.
The university released a statement that it cannot legally "comment on individual student matters" but emphasized a focus on "the safety and welfare of all of our students."
"Our emergency response to members of the AU community is a collaborative effort between AUPD, the Office of Campus Life, the AU Counseling Center, and others to ensure a comprehensive effort that de-escalates a situation, prioritizes safety and provides the support required," the statement read.
An email was also sent out to students after the protest, signed by Dr. Fanta Aw, vice president of campus life, and Doug Kudravetz, chief financial officer, vice president and treasurer.
"We take the concerns about these complicated situations seriously, especially given our national climate and the lived experiences of communities of color and other marginalized communities across this country," the campus officials wrote.
While the details of the incident remain under wraps, it sparked difficult conversations about campus climate for Black students – and how administrators and students communicate when those discussions arise.
To junior Denise Moyo, the school's email was "the most vague response they could have given us," she said. "It shows us the institution is very aware of what this looks like … I think they're very good at trying to make it look like they're doing their best."
She felt like the email's references to the video as a "short video" or a "30-second video" minimized students' reactions, "as if what we saw – and what was then learnt from valid sources who have spoken to Gianna – isn't really what happened," she said.
Moyo wasn't at the protest but she spoke with Wheeler after, who questioned American University's handling of mental health issues. Wheeler has approached the university for mental health support before, Moyo said, and they "dismissed her," telling her to take a semester off. Diverse could not reach Wheeler for comment.
Moyo described the campus climate for Black students as "kind of on edge" as Black students discuss the intersection of race, police violence and mental health and what tangible changes they want to see on campus. But "there is a lot of hope," she added.
"There are more people who are hearing out people's experiences and stories, more communication, more honesty and openness amongst the Black community," she said.
For Moyo and others, this incident is part of a larger discussion. This isn't the first time the campus has had to wrestle with racial tensions. In April, a video of a White student using the N-word spread online. In spring 2017, bananas were found hanging on campus, with AKA, the acronym of the predominantly Black sorority Alpha Kappa Alpha, written on them. The following fall, posters of the confederate flag with cotton balls attached appeared on campus.
"At times, it feels like stuff is being done" by the university but it can also feel "fake," said junior Foulematou Diane. She doesn't feel like she's seen real changes put in place to "actually make the Black community on campus feel more comfortable."
During her time on campus, she's experienced her own set of discomforts, like White students touching her hair or calling her by the names of her Black classmates.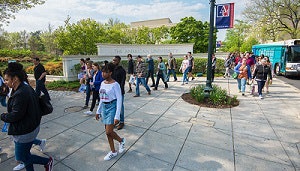 Diane wants to see American University be more "proactive," she said, and "do more than they're trying to portray" to students.
First-year graduate student Jonathan Blackmon described his campus climate experience as a Black student as largely positive. He doesn't see very many Black men, he said, which is striking to him as an alum of Florida A&M University, but he feels like he's found support and community.
"I don't think they're particularly bad with the inclusivity portion of it as it relates to where I stand with my diversity and how I see myself," he said.
Diversity officers pointed to resources – and opportunities for discussion – for students of color at American University. Robin Adams, director of educational programs and training for the Center for Diversity and Inclusion, said the center hosts Friday discussion groups where minority students gather on topics like Title IX. It also has a longstanding program called intergroup dialogue, seven-week courses led by students on themes they select, including race and campus issues.
"The overall goal for us as a center – and I would gamble to say as an institution – is really to stay connected to what the pulse is on our campus," Robins said. "What do we need right now in terms of being able to have a campus that feels like a place where everyone has a voice and a sense of belonging?"
Dr. Amanda Taylor, assistant vice president of diversity, equity and inclusion, said the school also has policies in place to make sure decisions aren't made "about students without students," including a 15-person student advisory council to the president's council for diversity and inclusion. The president's council for diversity and inclusion also offers listening sessions to any member of the campus community with concerns.
Meanwhile, faculty and staff affinity groups offer mentorship programs for students, supported by Inclusive Excellence mini grants, funding students, faculty and alumni can apply for to support projects promoting diversity.
Taylor also highlighted the AUX program, a discussion-based course on diversity now required for all first-year students, each led by a faculty member and a peer leader. Students have used the course as an opportunity to talk about all kinds of issues, she said, including what happened with Gianna Wheeler. She described it as an "intentional space to talk together in community."
They both emphasized the importance of student feedback in their work.
"We've got a lots of work to do, but we've got a lot underway that we're really excited about, even as we know that we continue to be challenged," Taylor said. We're "welcoming and celebrating the struggle of learning how to do this together."
Sara Weissman can be reached at [email protected].