Roiled by a series of hate crimes in November, Syracuse University faculty and administrators are trying to devise creative ways to improve campus climate.
Last week, 148 faculty members signed a letter proposing an idea – a liberal arts core curriculum "attuned to issues of difference and diversity."
A core curriculum might not be the first response higher education leaders consider for combatting a campus climate crisis, let alone a crisis of the size at Syracuse. This past fall, the university experienced more than 12 racist and anti-Semitic incidents – a swastika drawn in the snow, racial slurs graffitied on school buildings, a threatening email to a Jewish faculty member – catalyzing the birth of a student movement called #NotAgainSU, which occupied the Barnes Center at The Arch for over a week.
The faculty letter argues that this moment of "great anguish" is an opportunity for the university to reflect on its educational model, saying that a rich liberal arts education can be an antidote to the ignorance that often undergirds racist, anti-Semitic and sexist behavior.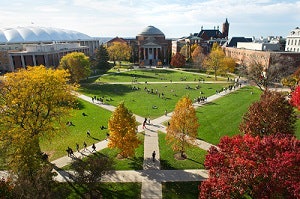 "Our moment has opened up possibilities to address and redress these issues, to educate all students to grapple critically and ethically with questions of human difference through a sustained engagement in humanistic inquiry and artistic expression," the letter read.
Syracuse University wouldn't be the first college to institute a core curriculum with diversity as a focus. Many universities now require diversity-related courses as a part of their overarching curriculum, some in response to challenges on campus.
In 2016, Loyola University Chicago made changes to its core curriculum to address "events in our community, nation and world" that "underscore the critical importance of diversity," the university website reads. Other schools with similar requirements include Georgetown and Villanova universities.
Dr. Biko Mandela Gray, a religious studies professor at Syracuse, who wrote the support letter with his colleague Dr. Virginia Burrus, recognizes that it's "complicated and difficult" to implement a liberal arts core at a school with over 20,000 students, but he thinks it's doable – and worth it.
He sees humanities and social sciences faculty as an untapped resource for diversity and inclusion work, as scholars are already engaging with students on American society's thorniest moral questions.
A liberal arts core isn't about "simply covering our bases," Gray said. It's "a way to help students become globally thinking leaders and globally thinking citizens," who can critically think about "human difference and the issues that arise from human difference."
If every major has some exposure to fields that deal with diverse human histories and experiences – like African American studies, women and gender studies, Jewish studies and Middle Eastern studies – all students will have a foundational understanding of these communities and how they're impacted by discrimination, he added.
Other scholars have found a liberal arts core to be a useful instrument for improving campus climate.
Dr. Daisy Verduzco Reyes, a sociology professor at the University of Connecticut, said her school's core curriculum with two required diversity courses is "a step in the right direction." A part of the El Instituto: The Institute of Latina/o, Caribbean, and Latin American Studies, she's a strong proponent of a liberal arts core as a tool for racial literacy.
She finds that K-12 curriculums have wide gaps when it comes to understanding the "history, policies and structures that have led to racial inequality as it exists today." With a well-designed liberal arts core, universities can offer all students that "base knowledge." And when universities don't, the responsibility falls on students of color to educate their peers.
"Without institutionalizing a curriculum that requires all students to understand the history of the United States and why there's racial inequality, we're basically leaving it up to these students to fight these battles of making other students understand who they are," Verduzco Reyes said.
She'd like to see core curriculums – at her school and others – not only requiring diversity-related courses but a year-long, interdisciplinary, mandatory seminar as well. After all, campuses are rife with experts on all kinds of equity issues, from healthcare to housing to education, she said. Why not bring them together? And while talking about cultural diversity has value, to improve campus climate, she thinks a core curriculum needs to incorporate explicit conversations about "power distribution."
Ultimately, racism on campus can't be fought by just "holding hands and trying to understand each other," Verduzco Reyes said. "It's about really acknowledging why we are where we are today."
Her advice to universities like Syracuse that are considering a diversity-focused core curriculum is "to be brave." These measures are often misinterpreted as "liberals wanting to indoctrinate the youth," she said, so "this is the kind of thing that people do get up in arms about," but it's "really important."
Syracuse University is already undertaking a slew of new initiatives to help minority students and faculty feel safer: a security assessment of Hillel, the Jewish student center, a Diversity Opportunity Hires Initiative to increase faculty diversity, new staff therapist positions and a special committee dedicated to campus climate, diversity and inclusion. It's also trying to put its money where its mouth is. The school allocated $5.6 million toward diversity and inclusion work on campus, with 16 new staff hires to expand diversity programming. Meanwhile, $400,000 has been set aside for the Center for International Services.
It's still unclear whether Syracuse University will add a liberal arts core to its list of policy changes aimed at fixing its tense campus climate. There's been no formal response yet to the faculty letter from the university but Gray said he is optimistic.
"I hope they're considering this," he said. "I want them to think about this. Really what we're after with this curriculum is for folks in every discipline to have access to tools to critically deal with people on a very basic level, to deal with the fact that people are different and to navigate that, not simply in a sensitive way but in an ethical way."
Sara Weissman can be reached at sweissman@diverseeducation.com.