A slew of racist and anti-Semitic incidents hit Syracuse University in November, prompting the advent of #NotAgainSU, a movement led by Black students protesting the university's piecemeal response to the hate crimes. This week, a new player emerged in the conflict: the Faculty Action Collective.
The newly formed, currently anonymous group of faculty came out with a statement online unequivocally supporting #NotAgainSU and calling for a number of accountability measures and resignations of university officials. According to the statement, if the collective's demands go unmet by March 2 at midnight, it will carry out a "series of actions" the group has organized.
"We are appalled by the administration's breach of trust and the university's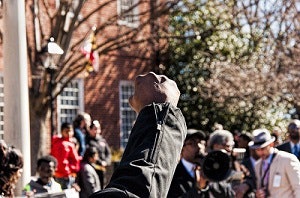 blatant institutionalized racism," the statement reads. "In light of the institution's use of policies and procedures to harm and target students, we have no faith that the current administration can lead our community through this critical and urgent moment."
This moment of faculty-student solidarity points to a larger conversation. As students confront administrators about campus climate, it poses a dilemma to their professors, particularly faculty of color: to protest or not to protest? Can professors freely support students' social justice causes, or are there professional risks involved? How do minority faculty decide when and how to show solidarity?
These are discussions Dr. April Logan, an associate professor of English at Salisbury University, has been having with her colleagues. Like Syracuse, her campus has been repeatedly vandalized with racist messages this academic year, prompting a student "blackout" protest in November when students wore black and marched on campus.
After one of the incidents, students brought their concerns to administrators in a public meeting, including a request for mandatory diversity training for faculty. When an administrator told students that it already existed, Logan had a choice – to speak up or not. She decided to "bring complexity" to the administrator's answer, clarifying that the training in place was more about preventing legal challenges with Title IX, not the nuances of how to handle diversity in the classroom, which is what students wanted.
It was a "difficult situation" with "a lot of anxiety," she said, because "perhaps I'd like to become a full professor. I knew that some people might disagree with me challenging the administration publicly or might just disagree with how I present myself, how I comport myself."
Logan stressed that she at least has the protection offered by tenure. It helps her to visibly show solidarity with her students – because she knows she can. But these decisions are even more challenging for junior faculty of color, she said, who fear risks to their tenure cases, especially when such a small fraction of minority women receive tenure. The structure of the tenure system impedes on necessary changes to the academy when junior faculty feel afraid to be "change makers," she said.
That's why, even though she chooses to take part, Logan doesn't "judge anyone's choices" about when and how to engage with student movements, she added. "These are real concerns," and if faculty feel like their best social justice work is in the classroom, not the streets, they too can be "a student's lifeline."
In the future, she hopes departments will offer more transparency around tenure and promotion to ease faculty of color's concerns about participating in protests. But in the meantime, she feels like she owes a "debt to the people of color who came before" and a duty as an educator to support student activism on campus climate.
"I want to empower my students," she said. "I want to teach them how to recognize, talk about and address systems of oppression. What better way to show them? If I'm saying you need to stand up, you need to speak up, you need to analyze it, you need to name it, I feel like I'm not being a very good role model if I don't do it myself."
For Dr. Julia Chinyere Oparah, provost and dean of the faculty at Mills College, campus protests are "living history," intrinsic to her work as ethnic studies faculty.
She pointed out that ethnic studies departments were originally created in response to student activism.
"Student protests have been critical to my career," Oparah said. "As an ethnic studies professor, I have a deep understanding of the ways in which student protests can and have improved on campuses, made campuses more equitable, improved and expanded the curriculum and really helped us live up to the vision of what a liberal arts education is."
But questions about how to best show solidarity as faculty can be harder, she noted. She thinks professors should support student activists not only in moments of crisis but in more long-term ways "behind the scenes," like mentoring students on how to balance their activism and academics. And when there are student protests, faculty should be "very careful" not to eclipse students but to "follow their leadership," she said.
For example, Oparah's students held a protest to call attention to campus climate in 2014 after someone posted a racist comment on a Mills College social media page. Faculty were "100% behind them," she said, and many stood nearby to show support. She was the faculty advisor for the Black Student Collective at the time, and they eventually asked her to join them on the steps where they were protesting. Once she had been invited, she did.
"For me, students are often protesting things I would want to protest too," she said. "If they're protesting racism or a number of different issues, our hearts are there too. That's why we do this work."
Sara Weissman can be reached at sweissman@diverseeducation.com.