Using social media as a way to amplify one's own reach in academe, was one of many topics discussed during a University of Michigan panel on how diversity scholars have navigated this tool.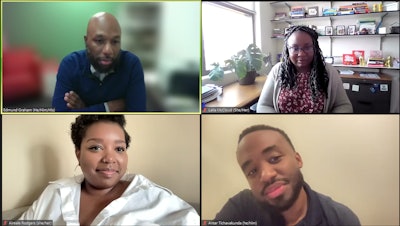 The webinar – hosted by UMich's National Center of Institutional Diversity (NCID) – took place on Tuesday and was moderated by Edmund Graham, associate director of the NCID.
Social media, namely Twitter, can provide scholars a platform on which they can engage with various individuals within and outside of academia, potentially those who otherwise would not have access to the scholars' work, said panelist Dr. Laila McCloud, an assistant professor of educational leadership and counseling at Grand Valley State University.
Posting scholarly ideas on social media can be one avenue of circumventing long and bureaucratic publication processes, making sure that scholars can share their thoughts and receive feedback in a timely manner on a topic before it becomes dated, McCloud said.
Such platforms can lead to building communities and networks where resources can be shared, said panelist Dr. Aireale Rodgers, a postdoctoral fellow on the HEAL Project at the University of Wisconsin-Madison who will become an assistant professor of higher education this fall.
"As a faculty member, I've always been either the only Black person in my entire college or in my department. And so, thinking about using social media to build that sense of community has been everything to me," McCloud said. "I do think there is a way to use it to be authentic. ... We're sharing our scholarship but we're also sharing little bits of who we are as humans. My work is not my life. I have a full life outside of that. ... I think it's important for folks to see the fullness of who we are as humans, that we're not just faculty or researchers writing these books. ... We are well-rounded individuals and all those experiences inform the work that we do."
These platforms can also provide scholars themselves an easier way to keep updated with fellow colleagues' work and publications, said panelist Dr. Antar Tichavakunda, an assistant professor of race and higher education at the University of California, Santa Barbara.
"Twitter or LinkedIn serves as a way that I can keep up with a lot of the scholars that I love and appreciate the work that they're doing in pushing my thinking," Tichavakunda said.
But with online presence comes certain fears, risks, and insecurities, the panelists said. Fears such as whether their words will be twisted and what assumptions will be made of them that have "real consequences for my wellbeing and my ability to take care of myself and my ability to live," McCloud said. She spoke about taking time to really think about where best to present her thoughts – perhaps in her work instead of online – and being mindful of word choice.
And if one wants to be critical of authority and those in power, they should be prepared for the pushback and "spotlight" that's going to be on them, Tichavakunda said. Given how social media conversation can omit tone, he suggested that direct messages and requests to speak in person may be more productive.
Amidst the stressors of academia and social media, the panelists spoke about finding joy and taking breaks from being online.
"In moments when we are getting heckled, we're dealing with the trolls, when I was dealing with the trolls, it was very important for me to have my friends to lean on," Tichavakunda said, recalling a time he was convinced by a colleague to tweet about receiving hate mail. He ended up getting overwhelming support from loved ones and random people.
Rodgers also found joy in seeing the happiness and accomplishments of others, she said.
"Being able to witness and celebrate to all of the wonderful things that are happening in people's lives, professional and person, I think brings me a lot of joy," she said.