The University of Arkansas (UA) system may be nearing an affiliation deal with embattled for-profit University of Phoenix, and UA faculty and staff continue to object to the move, worried about the damage it could do to the reputation of the state's schools, The Washington Post reported.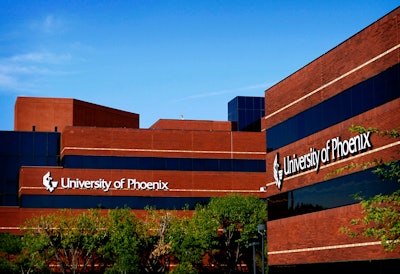 "The University of Phoenix has proven itself, through strikingly low graduation and retention rates, to be unsuccessful at helping students reach their educational goals, anathema to what we do here," University of Arkansas in Fayetteville's faculty senate wrote in a Mar. 29 letter to UA System President Dr. Donald Bobbitt. "The reputation of Phoenix's history will linger for years to come, and our campus is at the most risk for association with it."
Critics argued that the school hurt its own reputation with deceitful recruiting, something they say Phoenix could do to Arkansas' institutions of higher ed. Phoenix has faced allegations of fraud from thousands of students. Opponents also brought up Phoenix's lackluster graduation rate (27%), according to the Education Department's College Scorecard.
However, the two institutions are close to an agreement, Bobbitt recently said. He anticipates the union will earn the system approximately $20 million in revenue a year. He has not mentioned the exact cost of the purchase, but he did confirm that it was at least $500 million and said that funds from undisclosed international banks would be used instead of public or university funds.
In 2022, UA created nonprofit Transformative Education Services Inc. to acquire Phoenix, instead of outright purchasing the for-profit school and incorporating it into the system. This way, Phoenix would retain its name but could use the UA system name in branding, and UA could leverage Phoenix's marketing engine to bolster programs, said Michael Moore, vice president for academic affairs for the UA system. Additionally, this added distance between the two entities is a way to protect UA's schools from the debt and liabilities of the for-profit giant.
"We think we've come up with a legal and logical arrangement that provides the flexibility that the TES board will need, and the isolation that the UA system needs to be able to continue to operate as it has in the past," Bobbitt said.