George Washington University (GWU) recently announced a plan to provide firearms to about 20 specially trained supervisors on a GWU police force, a plan that has drawn criticism from students and neighbors, The Washington Post reported.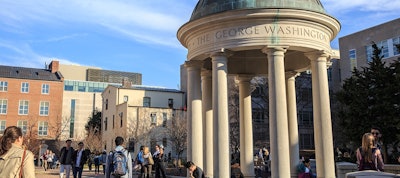 GWU administrators are arguing that they need every possible tool to prevent mass shootings and respond to fast-moving threats, but students and neighbors often suspicious of police are arguing back that an armed force would not make them feel safer.
"No guns for GWPD!" a crowd of students protested on Monday outside the home of the GWU President Mark S. Wrighton, who had said that the school had felt compelled to take this action, given the many incidents across the U.S.
"While we are not aware of any heightened threat to our university, in recent years there have been too many tragic instances of mass gun violence in communities and on college campuses," Wrighton wrote in a statement. "In the past several months alone, we have noted with deep concern shooting incidents at educational institutions, including at Michigan State University, the University of Virginia, and an elementary school in Nashville."
To note, UVA and Michigan State campus police carry firearms.
D.C. has had at least 200 homicides in each of the past two years, while its police force has been shrinking due to turnover.
Some D.C. schools don't see a need to arm their police because they coordinate with D.C.'s Metropolitan Police Department, said Leroy James, former Howard police chief who currently oversees a D.C.-based training academy for campus police. But with heightened scrutiny of mass shootings, lethal force policies are being reconsidered, he said.
Victoria Freire, 22, said she worried about how armed police will treat students of color.